Delhi Results Should Move Pawan Kalyan And Chandra Babu Naidu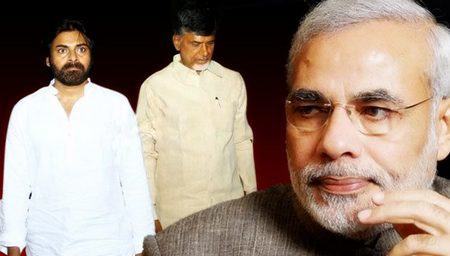 Today's results in Delhi are not a referendum on PM Narendra Modi led BJP but surely the ruling party has many things to learn. The so called Modi wave lost its magnitude in the tsunami of Arvind Kejriwal led Aam Admi Party. Surely every political analyst got surprised by AAP's landslide win, but common voters aren't. This win of AAP makes it clear that in 2014 general election it's not complete Modi wave that led to BJP forming the government but its anti-Congress wave. What's in it for Andhra Pradesh now?
Marriage & Fatherhood changed him a lot : Kajal Agarwal | Actress Samantha Weight Lifting Video : Exclusive
It was perceived that Modi's wave coupled with Chandrababu's vision and Pawan Kalyan's presence that were the factors leading to Telugudesam forming government in the residue Andhra Pradesh. Of course true. But more than Modi wave, it is the anti-incumbency against ruling Congress and Naidu-Pawan's call to kick out Congress is what influenced many to turn towards 'cycle'. Less than a year later, we're witnessing a truth in Delhi that BJP government failed to deliver.
At a time when a senior partner of this BJP-TDP-Janasena alliance receives a bare shock in Delhi, what would Andhra voters think about it?
Surely Modi mania is losing credibility and people are starting to realize what is happening in this regime except foreign tours of PM in designer dresses. If we introspect, even Pawan and Naidu failed to a larger extent in moving the Modi Sarkar to allocate those promised crores package to AP for its development post bifurcation. With AP capital woes still at large coupled with BJP's dwindling image and Kejriwal's win Delhi, AP voters will start 'questioning' Naidu and Pawan now. Moreover, Pawan managed to turn large number of youth voters towards TDP's side, and voters will all raise voice in case Centre continues it's crocodile tears on AP.
Distributors Not interested in Baahubali ? | Radhika Apte reacts on leaked personal selfies
After looking at Delhi results, Pawan and Naidu should understand that even AP voters will also turn down BJP and eventually TDP-Janasena if the situation in AP fails to improvise and governance fails to get better. From water woes to jobs, farmer loans to capital building, package to pensions, everything needs to get better at the earliest. At least now Naidu should change his tactics and pressurize BJP for the sake of AP. Even Pawan Kalyan should sharpen his question paper and fly to Delhi to ask Modi. Otherwise, Naidu-Pawan will become a soft bait for oppositions. Time for eye opening!!!