Actress Samantha Weight Lifting Video : Exclusive
Samantha Prabhu Two Piece Bikini Photos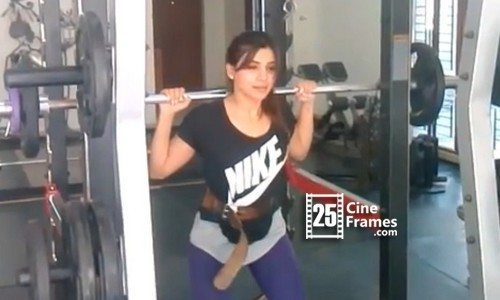 The brighter side is, these beautiful star heroines always look hot, tempting and curvaceous. That actual side is, they literally burn their fat and sweat it hard with heavy pumping of iron in the gym. Only such hard work makes them look hot and curvy.
Ram Charan Respond To the Night Party Controversy | Read Radhika Apte Look alike Naked Pics In Whatapp
This video released on YouTube by a trainer shows how hard Samantha trains herself to stay fit and retain her hot curves. Here is Sam, working out hard with a full box squat that requires to lift a weight of nearly 94 pounds (43 kgs) for five times. She raises the weights on her shoulders without any fail, all under the supervision of a foreign trainer. This is part of a linear starting program, 3 sets of 5, adding weight 5 pounds every 48 hours.
On a serious note, Samantha is not preparing for any weight lifting competitions but she is lifting these heavy weights to stay fit, burn the fat at right areas and look hot. Coming to films, Samantha's latest movie is 'S/o Satyamurthy' that has Allu Arjun in the lead.