Why Is Pawan Kalyan wearing Jandhyam?
Trisha Krishnan Marriage details | Is Produer spending over Buget on Temper?  | Pawan Kalyan Will Turn Up On Jr NTR's Date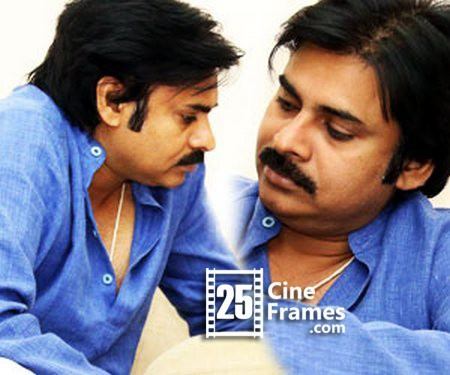 Pawan Kalyan's Tuesday (Jan 6, 2015) meeting with his injured fan Karuna Sreenivas has revealed something new and unusual of him- Yagnopavitam upon his chest. Pawan Kalyan wearing a Jandhyam (Yagnopavitam or Sacred Thread) is strikingly visible and conspicuous in the spot pictures, video. Especially, this is discovered a day after Pawan Kalyan admitted his strong spiritual bonding and his tryst with God, at the audio launch of Gopala Gopala. It yet again proved that Pawan Kalyan is an enigma and there are several unknown facets within him that outer world doesn't know.
Junior Artist Krishnaveni Arrested In Prostitution Case | Mahesh & Pawan – The Bipolar Of Tollywood | Modi And Pawan Kalyan's future plan?
Jandhyam, the sacred thread, is worn over the left shoulder and under the right arm after Upanayana, a ceremony through which Guru (Spiritual Guru) introduces Brahmopadesam to seeker. Thus it clears the path for wearer to perform "Sandhyavandanam" and recite the powerful "Gayatri Mantra". As Pawan himself corroborated that he is a staunch believer of God and follower of spirituality and stated that the thoughts about God always haunt him, only he knows the exact reasons behind his big decision to wear Jandhyam and he'd be the best person to talk on it.
In Pawan's case, it's still unclear when the actor had Upanayana ceremony (Sacred Thread ceremony) and who were behind this. However, it is predicted that his dearest friend Trivikram Srinivas (Akella Naga Srinivas Sharma) and the duo's father-figure astrologer Narasimham possibly would aware of this and both Pawan, Trivikram would had sought his opinion for this. Usually, the ritual is practiced among Brahmins, Vysyas, Kshatriyas communities besides very few others. Kalyan, known for swimming against the tide, yet again does it by wearing Jandhyam taking everyone by surprise.
Final warning for Pawan Kalyan fans from Chiranjeevi | Charan enjoying late night party with Lakshmi Rai | Fans Shocked with 'Mukunda' Controversy!
His another facet that was spotted in his meeting with fan is the star's humanity and down-to-earth attitude during the meeting. Forget about actors, even doctors and common man take necessary precautions while touching the wound and think twice. But much to everyone's surprise, Pawan Kalyan straightly checked the wound by pealing off the bandage without any hesitation and kept it in the place. This shows his honsety, genuine love for his fans and proves that actions speak louder than words. In fact, many people who worked with him so far, can't be silent without raving his personality and rare qualities. That's the unmasked humble Pawan Kalyan for you!