Guinness Record for Odarpu Yatra?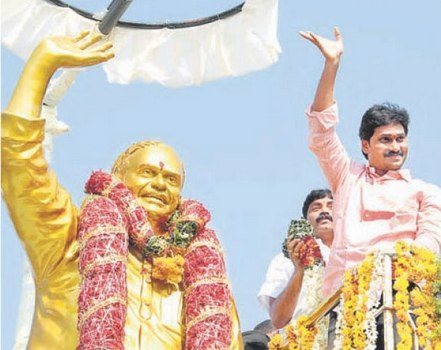 With YS Sharmila began her latest round of Odarpu Yatra in Telangana, mixed reactions are pouring in from all quarters. Nearly five-and-a-half years after the death of former CM YS Rajasekhar Reddy (Sep 2, 2009), his daughter turning up to relaunch Odarpu Yatra that too in Telangana is raising pertinent questions over the yatra. The satire doing on the rounds over the yatra is that YSRCP is strongly trying for a "Guinness World Record" for the yatra and hence continuing the yatra unabatedly.
A senior political analyst recently commented, "Perhaps, even Jagan's grandson would do Odarpu Yatra for the death of his great grandfather in order to console the bereaved great grandsons/granddaughters of their great grandfather." He added that Odarpu Yatra is a "big farce" and became a "butt of jokes". Another political observer felt that Jagan's latest idea of "Paramarsa Yatra" to console families of farmers who committed suicides would be far more "practical" and "hold significance" rather than doing a "Odarpu Yatra".
Even Sharmila's idea to go on Odarpu Yatra seems to be not going well with a section of YSRCP leaders and activists and silently expressing their displeasure over party. "It's better to do yatra on the plight of people and their woes. At least, party would gains people's support for such activities. Activities like Odarpu Yatra would only distance people from party," opined a YSRCP leader on condition of anonymity.
Finally WhatsApp Announces It's Desktop Version | Its Official: Amitabh Bachchan Is AP's Brand Ambassador
All these opinions, suggestions from analysts and party leaders seem to have falling on the deaf ears of its party president YS Jagan and his top brass. Though Jagan and his party has very less strength in Telangana, post carving out of the new state, Sharmila resorting to Odarpu Yatra is considered as a "poor" publicity stunt gone wrong in every way. It's high time Jagan & Co should reconcile over resorting to such public programmes as they might end up losing people's trust if it all is any.
ChandraBabu Shocks Private Companies | KCR given 'WRONG' Number | Walking alone Harmful For BJP