Aagadu beats Attarintiki Dharedi
Bellamkonda Suresh denies suicide? | Actress arrested for killing Husband | Chiranjeevi's Sister Class To Sweta Basu Prasad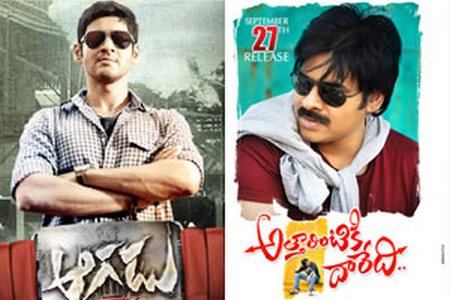 Prince Mahesh Babu's prestigious film `Aagadu' is all set to hit screen worldwide on September 19th. The makers of the film 14 Reel Entertainment has done all the promotional activities in a new way to make the film's pre release business high and they have achieved what they have planned for.
Actress Divya Sri Arrested in Prostitution | TV Anchor Harshavardhan Arrested | Actress Roja divorce ?
According to the latest reports, the movie is doing great pre release business in all areas. Nizam is quoted 14 crores, Andhra with 10 crores, overseas and ceded with a demand of 8 crores. S. Creations have bought the Guntur rights of the film for 4.25 crores which includes NRA's highest ever for Telugu Cinema. Earlier, this record was with the name of Pawan Kalyan's Attarintiki Dharedi which was sold for 4.05 crores.
Interestingly, the same distributors have acquired Ram Charan's Govindudu Andarivadele Guntur rights as well. Apart from this movie's over all rights are expected to sold for Rs. 50 crores which includes satellite rights, Tamilnadu rights, Kerala rights and audio rights.