Actress Swetha Basu Prasad arrested red handed for prostitution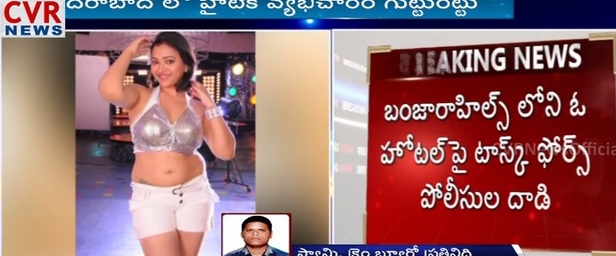 Kotha Bangaru Lokam fame Swetha Basu Prasad who was caught in a TV sting operation few months ago dealing with a client and broker for spending a night with a businessman in his farm house is once again booked in similar case. Task force police raided five star hotel, Park Hyatt in Banjara Hills a short while ago (Sunday night) and busted a prostitution racket.
Sweta Basu Prasad Responds to Media about her arrest in Prostitution "I have made wrong choices" | Samantha sensational comments on Swetha Basu's prostitution racket
It is said that Swetha Basu Prasad was arrested in the raid. She was caught red handed in a compromising position. According to the preliminary reports, Police have taken Swetha Basu Prasad in to custody but are yet to register case on her. It is said that Police have also arrested a person named Balu who is dealing on the behalf of Swetha Basu.
It is said that Police have a tip-off that Swetha Basu is resorting to prostitution in that hotel for a long time. They drew a sketch to catch her red handed and finally succeeded in it. We will have to see if they go on registering a case on her with out any pressures.
Swetha Basu Prasad first donned the grease paint as a child artist in Bollywod with Makdee for which she won National Award. Later, she acted in critical acclaimed picture 'Iqbal'. Swetha Basu Prasad made a sensational debut in Tollywood with Kotha Bangaru Lokam and then she starred in another hit Ride but some how she failed to grab good opportunities and iis banking on item numbers off late. Let's see how bad sex racket will affect Swetha Basu Prasad career!
[youtuberesponsive listtype="custom" listvalue="AdDWYV2EXRw" center="true"]
SOURCE : CVR NEWS