7 Unknown Things About Ramanaidu
Memorable Photos of Ramanaidu Daggubati Family Photos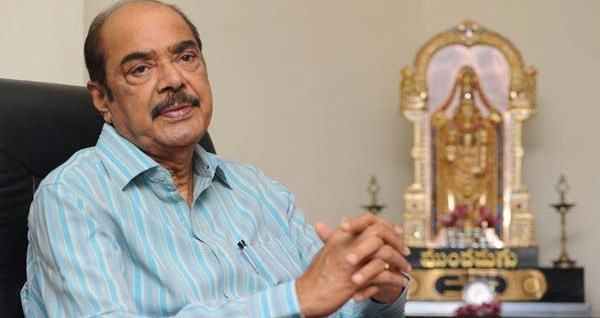 Not many know that ace-producer Ramanaidu is sensitive and an ardent follower of sentiments. Below are the list of little-known yet interesting facts about legendary filmmaker.
1. Ramanaidu is very sensitive. Despite being in glamorous industry for over five decades, Naidu's heart is always at right place. If he comes to know that his aides are going through difficult situation, Naidu's heart melts and at times, he'd also shed tears. Needless to say that he'd always stand in front row to offer help.
Rana's Emotional Breakdown Moves Hearts | Chandramohan Suffers with Heart Stroke
2. He's strict believer of few sentiments. During his earlier days he used to give more prominance to muhurats, Rahu Kaal. He doesn't listen to stories in Rahu Kaal and won't even take important decisions during such time. He is of the opinion that it's not good to travel on Tuesdays.
3. Ramanaidu consults pundits if he'd like to start any important works. At the same time, he's firm believer of hard work. He plans things meticulously.
4. Ramanaidu was an aficionado of Lord Venkateswara. For his production ventures, he visits Tirumala ahead of the film release and takes his divine blessings. In fact, he keeps the film's reel at the feet of Lord and offers special puja. This is perhaps why he had named his younger son Venkatesh after the name of Lord Venkateswara.
5. Ramanaidu had built a temple inside his Film Studio in Film Nagar. His day starts with Pooja at the temple in his Studio. As soon as he enters Film Studio, he prays in the temple before stepping into his office.
Ram Charan's Airlines named as 'Trujet' | Venkatesh's Reaction on his Father Ramanaidu's Death
6. Ramanaidu daily pays visit to his Nanakramguda Studio in the evening and spends quality time over there. He takes care of the vegetables they grow at their land in Nanakramguda.
7. The strong sentiment within film industry is that Ramanaidu's Hasthavasi is good. If he gives money with his hand, film industry people believe that they'd be earning money throughout the year. So, Naidu gifts a 100 Rupee note to few of his trusted followers on the day of New Year. This trend continued till his death. He even followed this on Jan 1, 2015.