Upendra Injured on Set of Kalpana 2
Upendra is an Indian film Actor, Director, Producer, Screen Writer, Lyricist and Playback singer who works primarily in Kannada Cinema. He started his career under actor and film director Kashinath, as a writer and an assistant director. His first directional venture was Tharle Nan Maga.
Upendra has established himself as one of the most successful actors and directors of Kannada Cinema, he is currently the height paid directors and actors in Kannada cinema.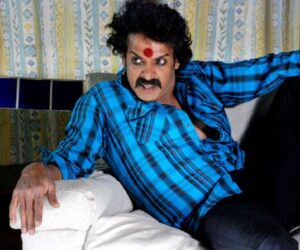 Kalpana 2 is the remake of the Tamil film Muni 3: Kanchana 2, the third film horror – comedy franchise by actor – filmmaker, raghava Lawerence .The second film in that series was remade in Kananda with Upendra in the lead as Kalpana. Rama Narayanan had directed kalpana. With his death last year kalpana 2 is being directed by Ananth Raj. The producer of this movie will be UPENDRA.
Upendra while shooting for his new film kalpana 2 sprained his ankle on Friday. This is second such incident during the shooting of this film,
Earlier in January, during the shooting of the first Schedule of the film Upendra had sprained his Ankle. He had overcome it, after a brief break, Upendra was back for the shooting
On Friday, the shooting was at the Malleswaram playground where it has started a day earlier.
The Director ananth Raj, upendra and several co stars were playing some Kabaddi when Upendra sprained his leg. It is said by his co stars that he was in a lot of pain during that time. The actor had to wrap his ankle in a Crepe bandage and continued to shoot, during the shoot the bandage can be seen coming out of his left shoe. It was the minor sprain.
The movie is expected to release on 22nd July 2016.