Shruti Haasan dating cricketer Suresh Raina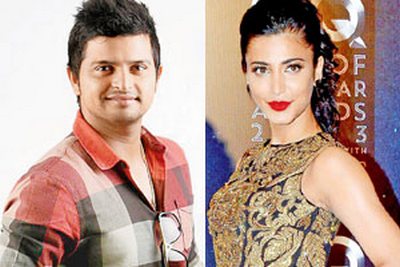 The grapevine has it that cricketer Suresh Raina and actress Shruti Haasan are seeing each other. When reports about their alleged relationship had recently surfaced, the two had vehemently denied the same but now if sources close to the two are to be believed, they are very much in love.
"They want to keep their relationship status under wraps as it's still too early. Just like Virat Kohli and Anushka Sharma, Suresh and Shruti Haasan too do not wish to discuss their relationship in public. They just want to lie low and not share their equation with the world," says a source close to the couple.'
Another source says that both Suresh and Shruti Haasan don't want their relationship to hog all the limelight and take the attention away from their work. "Suresh would rather have his cricketing performances dissected than his personal life; ditto for Shruti Haasan who wants to focus on her films," says this source.
Shruti Haasan was unavailable for comment.
Source : timesofap.com