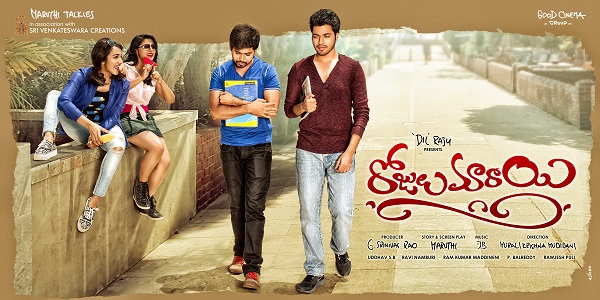 25CineFrames Rating: 2.5/5
| | | |
| --- | --- | --- |
| Release Date | : |  July 01, 2016 |
| Starring | : | Tejaswini, Kruthika, Parvatesam, and Chetan |
| Director | : | Murali Kirshna |
| Producers | : | G. Srinivas Rao |
| Music Director   | :   | J B |
| | | |
Rojulu Marayi Movie Review Rating, First Day Collections and Public Talk
Rojulu Marayi is directed by the upcoming director Murali Krishna.  Maruthi has written the story for the flick.  The movie hit the screens on July 1st, 2016.  The movie has created quite hype with its trailer.  The movie stars ice cream fame Tejaswini and Kruthika as the female leads and Keerintha fame Parvatesham and Chetan as male leads.  With this movie, Kruthika and Chetan are debuting into Tollywood.  The movie is produced by G. Srinivas Rao.
Rojulu Marayi Story
Adhya played by Kruthika and Rambha played by Tejaswini are close friends who are so lively and share the same room in a working women's hostel.  The two girls trap two innocent men Peter played by Pavatesam and Aswad played by Chetan and use them to get their work done.  Both girls have their lovers and they cheat on these two guys just because of a warning they received from a Baba.  One day they get to know from a Baba that whoever they marry, their husbands will die in ten days.  So, in order to save their lovers, they try hard and make plans to marry Peter and Aswad so that once they are dead these girls can marry their respective lovers.   How is there in the box for peter and Aswad?  Will the two girls marry them?  How the story proceeds?  You need to find this out in cinemas.
Technical Aspects
The movie being a horror comedy, fails to cover much technical skills.  The camera work is just okay.
Plus Points
Tejaswini as always gave her best in the flick as a two-timing girl. Parvatheesam was good to an extent, but failed to stick to it till the end.  The debutants were fine.
The music of the movie is good.
Comedy was good.
Minus Points
The list is a bit big.
It seems like, Maruthi who have given script for the movie, did not put his heart into writing the story. The debutant director Murali Krishna is so new and the movie misses many jolts, even after being a horror comedy.
Even though the movie kick starts with some entertainment, it lacks a lot when the movie enters second half. With very much predictable screenplay, the movie does not make the audience go desperate about the next scene.
Final Verdict
The movie changes from comedy to horror genre and frankly speaking there is no much exciting story in the second half.  Maruthi mark of double meaning dialogues were used in this movie as well.  Not much to say about camera and editing.  The Maruthi mark of comedy is definitely missing in this movie.  Of total, Rojulu Marayi is an average movie that is not at all a treat to watch.
Over All 25CiniFrames Rating 2.5/5