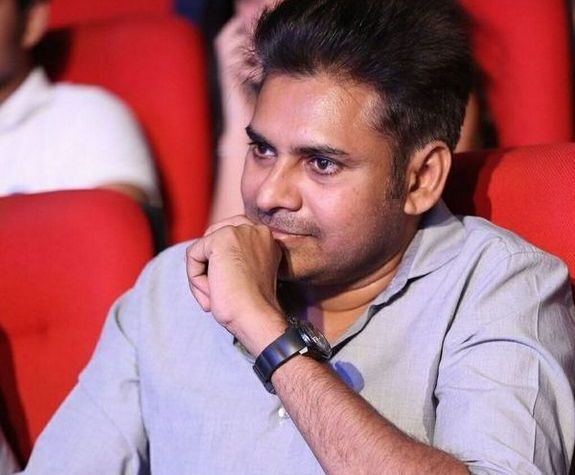 Powerstar Pawan Kalyan, the popular and crazy hero for almost all the Tollywood audience is a person who always looks simple in terms of outer appearance and personality. On Monday i.e., on May 2nd 2016, the audio launch of Nithin and Samantha Ruth Prabhu's movie A…Aa or Anasuya Ramalingam Vs Anand Vihari grandly took place in a great way in Hyderabad. To that audio launch, Powerstar Pawan Kalyan was the chief guest who made the event quite successful.
During the launch of audio album and the theatrical result, Pawan Kalyan shared some of his memorable moments and good relationship with the genius director Trivikram Srinivas. It is well-known for everyone that the young upcoming hero Nithin is also reportedly a huge fan of Powerstar Pawan Kalyan. The news is that the actor Nithin had asked Trivikram to request Pawan Kalyan to attend as a chief guest to the audio launch. He also spoke about how he respects and praises Trivikram because of his dialogues that add life to the roles on screen.
Price of Pawan Kalyan Watch
One of the striking things that catch everyone's attention at the audio launch function is Pawan Kalyan's watch. Pawan Kalyan is quite a simple person who appears in a simple way at every function. For this audio launch also, Pawan seems quite simple, plain and unembellished. But, the one thing that has become a discussion in the Tollywood industry is about the watch of Pawan Kalyan. Do you know the price of Pawan Kalyan's watch?
The hottest news in Tollywood is about the Pawan Kalyan's watch price. You will definitely open your mouth in shock once after listening to the price of his watch. While giving speech, everyone's focus is on the watch which he wore. The watch looks beautiful that belongs to Bentley Barnato Company. To everyone's surprise, the price of this watch is approximately $5000 (Rs. 3, 00, 000) according to some sources. Almost all the people from Tollywood are astonished upon hearing the price of his watch.