NAGARJUNA CELEBRATES MILESTONE!
AkkineniNagarjuna, is beenrewarded with a special milestone on social media. He completed 30 years in the industry. He started his acting career in the year 1986,  "vikaram" being his very first film followed by other glorious hits like Geetanjali, Shiva, Ninne Pelladatha, Sri Ramadasu, OOpiri, and many more to list. The journey of 30 years has been very touching and memorizing and on this occasion, Nagarjuna shared his pic and tweeted," 30 years of love from family friends and fans/ ready for the next 30! Missing Nana and Amma very much… to all".
Nagarjuna posted his pick with wife Amala on the famous social networking site twitter where he has countless fans following and liking him. He crossed more than 1 million followers on twitter and now he joins the list of Mahesh Babu, the only Tollywood star who achieved this marvelous milestone. Not only in Tollywood, Nagarjuna fans are all over the world.  He is getting popular .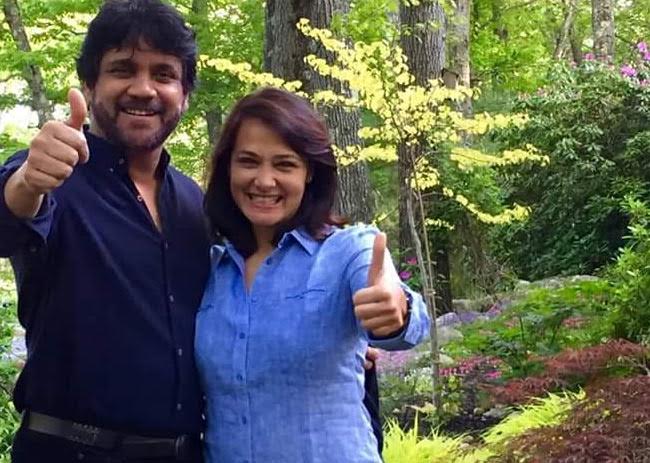 Talking about the latest hits, Nag has given two super duper hits this year, 'soggade chinni Nayana' and ' oopiri' . sources says that the actor will be soon seen on his upcoming movie "Om Namo Venkatesa," which is a biopic drams story based on " HATHIRAM BABA". The movie is been directed by K. Raghavendra Rao.
Pawan kalian has 4.6 lakh followers on social stream twitter whereas NTR has a fan following of 3.6 lakhs followers on twitter. the actors are very much busy in their commitments and doesn't maintain a regular contact with the fans but still manage to get more and more fan followers and their love towards them.
Nagarjuna along with Amala, has celebrated the rare milestone in style and is very happy on completing 30 years in the film industry.