Kaashmora Review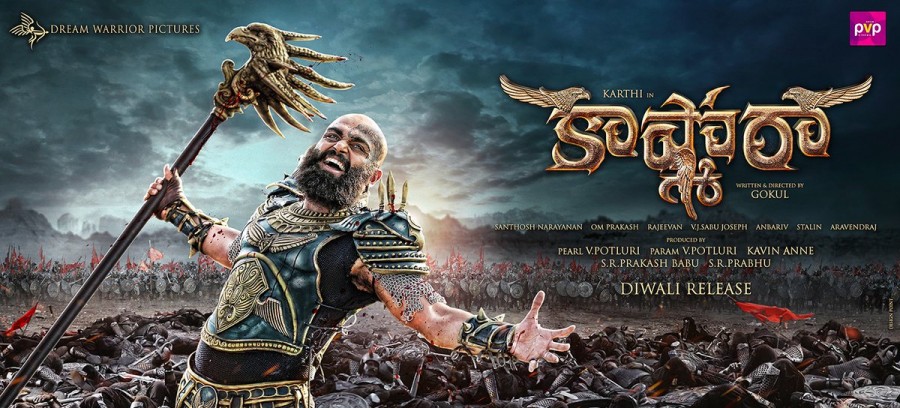 25CFrames Rating: 3.5/5
| | | |
| --- | --- | --- |
| Release Date | : | October 28th, 2016 |
| Starring | : | Karthi, Nayanatara, Sri Divya |
| Direction/ Screenplay | : | Gokul |
| Producers | : | S R Prakash babu and S R Prabhu |
| Music Director   | : | Santosh Narayanan |
| Cinematography | : | Om Prakash |
| Editing | : | V J Sabu Joseph |
Kaashmora Movie Review, Rating, First Day Collections, and Public Talk
Kaashmora Movie First Day Box Office Collections
Kaashmora is touted to be a dark fantasy film written and directed by Gokul.  The film features Karthi, Nayanatara, Sri Divya in the lead roles.  The movie had a grand opening in the theaters all across the country and in overseas on 28th October 2016.  The movie was made with a giant budget of 60 crores and is released worldwide in 1700 screens.
Kaashmora Story
Karthi will be seen in and as Kaashmora in the flick.  He is a black hat who impersonates to be endowed with some special powers of taking to the ghosts.  He deceives a big politician and runs away with his money.  He ends up in a bungalow that has a history of seven centuries and also is filled with some real spirits.  What is the history and who are the ghosts?  How and why Kaashmora goes to the bungalow?  How is he related to all these things and what are the roles of Nayanatara and Sri Divya? are something to catch on the big screens.
Review
The director Gokul has showcased the movie in quite a new angle.  It can be said that it is a time traveling movie that travels from present time to ancient time.  Karthi in and as Kaashmora is the biggest asset for the film.  Karthi's dual role as both Kaashmora and Raj Naik will hook the audience.  Nayanatara as always looked stunning as a princess.
Plus Points
The list goes on when it comes to mentioning plus points of the flick. The first mention must and should go to Karthi for his roles as Raj Naik and Kaashmora.  He did a fantabulous job in both the roles.
The horror comedy and suspense elements were well handled.
VFX work deserves claps.
Minus Points
The length is the movie is a bit irritating.
Editing could be much better.
Nayan just appears in the climax as a cameo which would disappoint the audience who go to theaters expecting a good performance from her.
Technical aspects
Audio and BG are biggest drawbacks.  Art direction is a visible feast to watch.  Director's Gokul take on the movie and his narrating skills should be applauded.
Verdict
If you are looking for a film that has something out of the box, then Kaashmora will serve your purpose.  Except for the length of the flick, you won't get a chance to point out at any other thing much.  It is a must watch for Karthi fans.
25CFrames Rating: 3.5/5