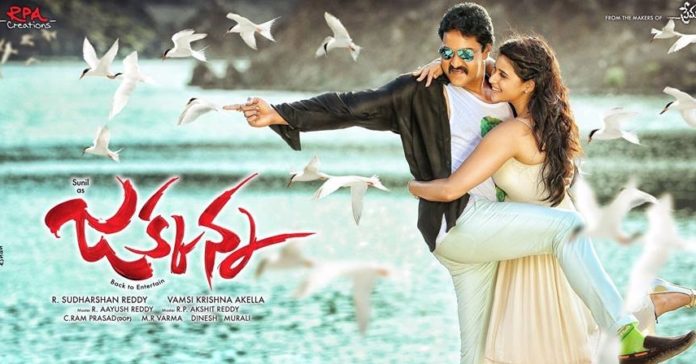 25CineFrames Rating: 2.75/5
| | |
| --- | --- |
| Release date | July 29th, 2016 |
| Starring | Sunil, Mannara Chopra |
| Director | Vamshi Krishna Aakella |
| Producers | Sudarshan Reddy |
| Music Director | Dinesh Kanagaratnam |
| Banner | RPA Creations banner |
Jakkanna Movie Review Rating
Jakkanna Movie has hit the silver screen all over the state on 29th July, 2016.  The movie stars Sunil and Mannara Chopra in the main roles.  It is a romantic comedy movie directed by Vamshi Krishna Aakella.  The movie is produced by Sudarshan Reddy and music was scored by Dinesh Kanagaratnam.  The music is a comedy genre movie.  Here is the Jakkanna movie complete review, rating, story, plot, first day collections, public talk, plus points, minus points.
Jakkanna Movie Review Rating
Jakkana movie got released in many screens of the state.  After delivering a disaster failure like Krishnashtami, Sunil has taken his next higher step with utmost care and chosen the script of Jakkanna.  The movie has got positive response from the audience on the first day.
Jakkanna Movie Story Plot
Jakkanna movie is about a man named Ganesh who believes in repaying.  He is someone who never forgets the help he received from others and likes to repay it.  With such thoughts he enters into a family but creates a mess in their lives.  In that process he meets a gangster called Bairagi who had saved his life in the past.  He wants to repay Bairagi, but his good deeds comes into the way of illegal activities of Bairagi does and so he decides to kill Jakkanna. How he escapes from the villain and where he meets his love interest forms the rest of the story.
Jakkanna Movie Review Rating, First Day Collections and Public Talk
Jakkanna movie is a complete entertainer with a healthy concept. Sunil has done a commendable job and gave an ultimate performance in the movie.  He gave an ease performance in the film and the dialogue delivery is notable too.  The punch dialogues were too hilarious.  Mannara Chopra was good in her role.  The movie has a strong supporting star cast like Pruthvi, Saptagiri and many others who gave admirable performance in the flick.
Jakkanna Movie Technical Aspects
The movie has got great production values.  As of now, this is the biggest budget film in Sunil's carrier.  The music suited aptly and Sunil shook his leg stupendously for the songs.  The first half was good, but in the second half the narration was a bit drag.
Plus points
Comedy is a total highlight
Decent performance from both the leads
Saptagiri is commendable in his role making audience laugh out louder
Minus points
Direction could have been much better.
Story line is lacking.
Second half goes out of track.
Sunil looks out of shape and needs to work hard to party harder.
Final verdict
Finally, Jakkana movie is a common in commons that does not have a great story, but has a big bag of punch dialogues and comedy scenes to launch and enjoy. This movie mainly attracts audience who love comedy genre.  If you are bored to death and want to get rid of it then definitely give this move a watch.
Jakkanna Movie Rating 2.75/5