Govindudu Andarivadele Closing Business 1 Month Total Collections up to date
A NUDE Film from SS Rajamouli's Father Vijayendra Prasad | Mahesh Babu asked help from Prabhas | Ram Charan's Love affair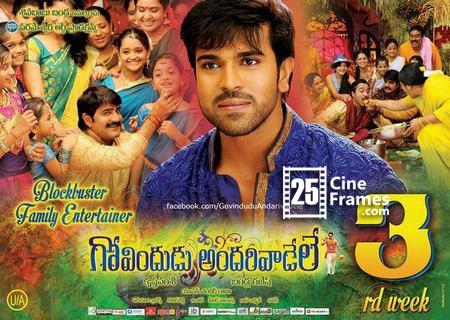 Ram Charan Govindudu Andarivadele has collected Rs. 33.91 Crores of shares for full run in AP and Telangana and Rs. 41.93 Crores worldwide. The family entertainer would complete 50 days in less number of theaters.
Pawan Kalyan Stopped Vijay Kaththi Release? | Hero Aadi and Aruna Engagement Photos | Tamanna is Heroine Anushka is Comedian?!
The movie may have crossed Rs. 40 Crore mark, but fact is it has provided losses for distributors in most of the areas, except in TS and overseas.
Here is GAV shares area wise break up list:
Area Collections (Shares)
Nizam Rs 12.32 Crores
Ceded Rs 7.29 Crores
Vizag Rs 2.84 Crores
Guntur Rs 3.20 Crores
Krishna Rs 2.18 Crores
East Rs 2.49 Crores
West Rs 2.06 Crores
Nellore Rs 1.53 Crores
Total Rs 33.91 Crores (Only AP and Telangana)
Karnataka Rs 3.60 Crores
Rest Of India Rs 1.10 Crores
Overseas Rs 3.32 Crores
Total (Worldwide) Rs 41.93 Crores
Bunny about Baahubali | I'm not dating Dil Raju: Actress Sheela | Music Director Thaman Cheated Mahesh Babu!