'Dikkulu Choodaku Ramayya' Review: Different Family Film Entertainer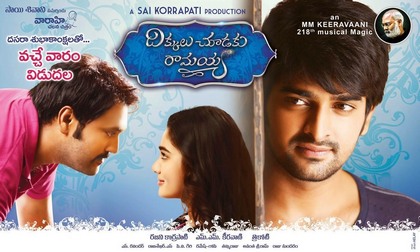 25CineFrames Rating:
3/5
| | | |
| --- | --- | --- |
| Release Date | : | Oct 10,2014 |
| Starring | : | Ajay, Naga Shourya, Sana Maqbul, Indraza, Ali and Others |
| Director | : | Trikoti |
| Producers | : | Rajani Korapati |
| Music Director   | :   | M M Keeravani |
[clear]
[clear]
It's the season of small films. A lot of new and relatively new film-makers are touching upon subjects that are off beat to suit the changing tastes of audiences. Ajay starrer Dikkulu Choodaku Ramayya is one such attempt by Rajamouli's assistant Trikoti. Let's see how the film has come up…
[clear]
Story :
The film starts off with Murali Krishna (Ajay), a bank officer with SBI who is married to Bhavani (Indraja) and has two grown-up sons. There is a voice-over which tells us right at the beginning that he was married at the age of 17 due to which his dream of having a love marriage goes awry. During his many trials in falling in love with a young girl, Murali Krishna or Krish as he likes to be called meets an aerobics instructor Sameetha (Sana Maqbool) who owes money to their bank. While it's love at first sight for Krish, Sameetha takes him to be her good friend. Meanwhile, in a strange turn of events, Krish's 18-year-old son Madhu (Naga Sourya) too meets Sameetha who turns out to be his college senior and falls for her. Goes without saying, the rest of the story shows how the father and son get out of the tricky situation.
Technical Aspects :
The film is produced by Sai Korrapati who had earlier made Eega and Legend and it is directed by Trikoti who had assisted director Rajamouli in the past. The music for the film is by MM Keeravani and one can see his commitment in the kind of music he has provided for the film. It is different from the regular mass beats and is in perfect sync with the plot. Trikoti must be given credit for making a clean and neat film with a subject that had lots of scope for vulgarity. But he steers clear of the temptation and sticks to his primary objective of telling the story he wants to narrate.
Plus Points :
Major plus point of the film is the interesting concept. Stories like these are very rare for Telugu films, and it is good that makers are trying something new finally. Ajay has a tailor made role and does a decent job with his acting. He suits his character and looks apt as a young dad to Naga Shourya. Talking about Shourya, this young hero does exceptionally well in just his second film. He looks handsome and enacts quite convincingly. The way he has shown his emotional side in the second half is also excellent.
Comedy scenes featuring Ajay, and all his problems dealing with the heroine, have been showcased humorously. Climax of the film is decent and has been handled well. Yet another plus point of the film is the music, which is pretty good. Brahmaji is superb in his comedy role, and does a wonderful job as Ajay's friend. Sana Maqbool is just about ok and does her job well.
Minus Points :
Even though this film has a interesting story line, the way it has been handled is below par. Interval bang lacks clarity and could have been better. Indraja's role is just left for the sentiment touch, and has not been explored much. The relation between Ajay and Indraja should have also been focused more.
After a certain point of time, the second half of the movie gets predictable. Screenplay during this period is below par. The film has a roller coaster feel to it. When something interesting is going on, the films dips sharply. There are many unnecessary scenes in the film which only add to the run time.
Few scenes in the second half
Final Words :
On the whole, Dikkulu Choodaku Ramayya is a refreshing change from the routine commercial flicks which are coming out off late. Ajay and Naga Shourya's performance, music and comedy episodes are basic plus. Even though this film lacks proper narration in parts, it will still make up for a decent watch for its unique content.
Overall 25CineFrames Rating :

3/5
[clear]