KAMMATI PAADAM remake with AKHIL & ARJUN Kapoor.
The makers of the Malayalam thriller drama,"Kammati Paadam" is palnning for a remake. The director of the movie Rajiv Ravi, is planning for the remake in Telugu and Hindi. Dulquer's Kamattipaadam has opened a positive response  and after good audiences feedback, the remake of the movie hits the mind of the director.
A source reveals that Akhil and Arjunkapoor , young , dashing , handsome and  dynamic stars of tollywood and Bollywood industry are considered as the lead roles in the remake in Telugu and Hindi. The movie turned out to be a great hit and now the remake casting these two actors in their respective languages will also be a super hit. Not much information is been out about the news as everything is at the starting stage, nothing put into action. Both the actors did not watch the movie yet and according to the makers, the script is completely demanded and written keeping Akhil And ArjunKapoor in mind.  Takes about two months to finalize the matter though.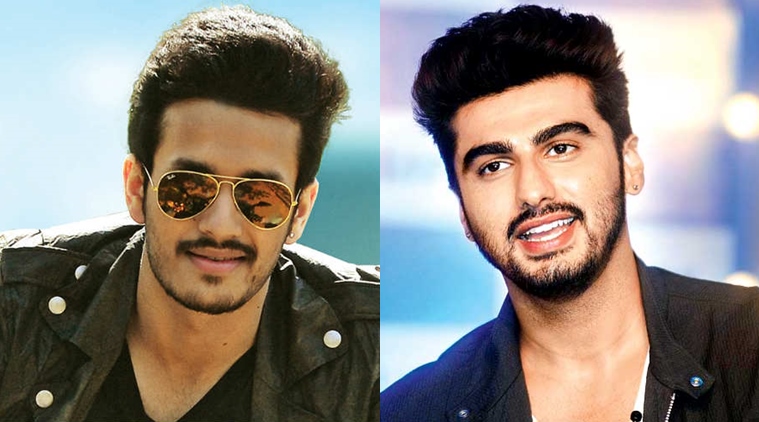 Cinematographer turned director Rajiv Ravi , has been working in Bollywood for like several years and is associated with several studios and to maintain his forte , he decided to remake the movie in Hindi starring Arjun kapoor who is currently paving his way to success in Hindi Films.
' Kammati padam' is a Malayalam thriller drama movie , based on gangster world, and the story of the movie is all about paved way to Cochin.  The movie was a hit and much appreciated by the audience and critics also gave a good rating. Movie was produced by Prem Menon under the Banner Of Global United Media. More news and updates once confirmed will be coming soon. Stay connected !