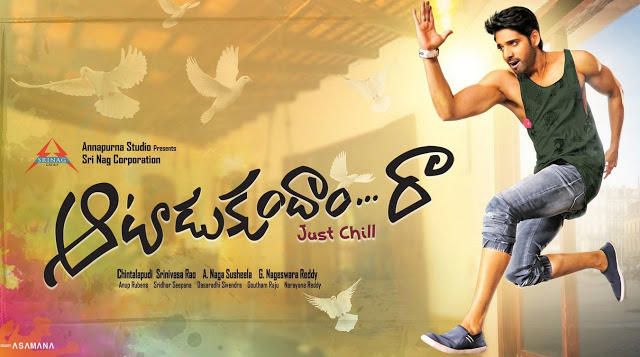 Aatadukundam Raa Rating: 3/5
| | |
| --- | --- |
| Release date | August 19th, 2016 |
| Starring | Sushant, Sonam Bajwa |
| Director | Nageswara Reddy |
| Producers | Naga Suseela |
| Music Director | Anup Rubens |
Aatadukundam Raa Movie Review Rating
Aatadukundam Raa is a Telugu romantic comedy entertainer from Nagaeswara Reddy.  The movie has hit the screens on 19th August, 2016 all over the state.  Sushanth and Sonam Bajwa are the main leads of the flick.  After Dongaata, this is the film that Sushanth has signed.  The movie is produced by his mother Naga Suseela.  The music is scored by Anup Rubens, which is too good to hear.
Aatadukundam Raa Movie Story
Sushanth is one of the youngest and finest talents in Tollywood.  He has been into cinemas since 2008 and has done handful of films, which are enough to judge that he is a talented actor.  Sushanth's last film is Dongaata.  Aatadukundam Raa with Nageswara Reddy is definitely a new try from Sushanth.  Sushanth has eased acting skills in him and the way he delivered the dialogues in the movie were notable.  The movie has good supporting star cast like Brahmanandam, Vennala Kishore, Prudhvi Raj, Murali Sharma among others.  The story of the movie is that there will be a time machine and hero along with Brahmi and Vennala Kishore will go into the future and go into the past with the help of time machine.  They visit different places and meet biggest directors and actors of that time to get a script.  They also visit Pridhvi Raj who is a director himself in the flick and shoot a flick.  The rest of the movie depicts how hero makes heroine fall in love with him and the fights with villains and all.
Plus points
The first and foremost plus point for the movie is surprise special appearance of Naga Chaitanya and Akhil in the flick.
Heroine Sonam Bajwa was decent looking in the flick and performed well.
Sushanth as always gave his best.
Punch dialogues and comedy timing were notable.
The second half of the movie is quite interesting with entrance of Brahmi in the scene. He as usually stole the show with his performance.
Minus points
The script of the movie can be well written.
The plot could be much better.
Technical aspects
Anup Rubens should be given half the credit for the success of the movie for his wonderful numbers.  Production values were good.
Final verdict
The movie has good length of comedy that will keep the moviegoer entertained.  The story was handled differently, but greatly.  So, Aatadukunda Raa is a worth watching movie.
25cineframes Rating: 3/5