A Aa Release Date CONFIRMED!
A Aa, is upcoming Telugu Romantic comedy written and directed by TivikramSrinivas.  Music is composed by Mickey j Meyer, and the flick is produced by S. Radha Krishna.
Star cast of the movie is Nithin , Samantha Ruth prabhu and AnupamaParameswaran. Excellent star cast  to bring audience to watch the movie.
Talking about the budget, the movie costed 35 crore and is going to soon hits theatres on 2ndjune 2016 all over world. Fans can also enjoy thelistenthe  music of the film  as the music was officially launched on May 2nd.
The production company is haarika and Hassine Creations and the production began on 24th September 2015. Probably a year before.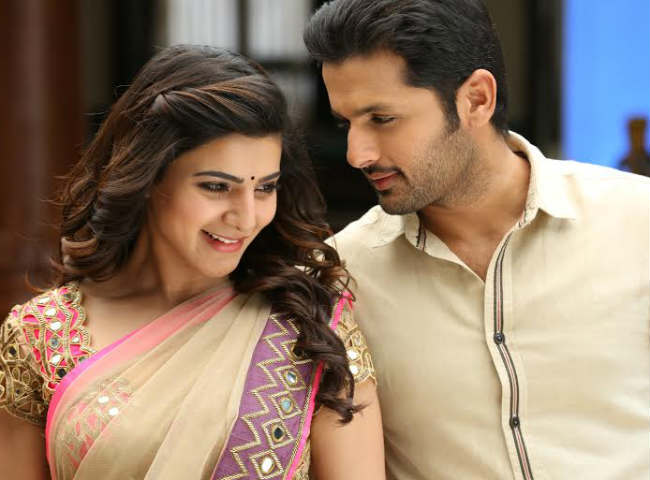 Samantha Ruth Prabhu has signed the contract of the movie with the director trivikram srinivas. she worked thrice before opting for the movie. A strong bond can be seen among both. With lots of confusion, discussion and changes, Anupama Parameswaran was selected as the second heroine.
The movie is expected to be around 152 minutes hitting the screen on 2ndjune.  The music of the movie is a great hit and been loved by the fans. Music lovers can also download the songs on the official websites. Popularity is on its way and hopes the same for the movie.
Audience response means a lot and so the director, cast and crew of the movie has worked hard and featuring good star cast would bring great result.
Nithin plays the role of AnandVihari in the movie where as Samantha is seen romancing him as Anasuya Ramalingam. Excitement among the makers and audience is clearly seen and not much is to be awaited for the film as the release date is confirmed.
Fans , buy the ticket and enjoy the movie!