OM 3D Movie Review : Heavy Action – Less Fun – Minimum 3D Effects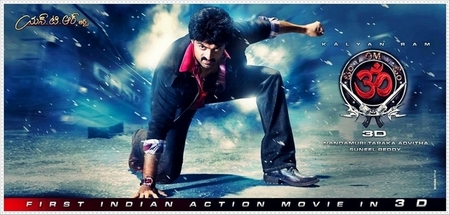 25CineFrames Rating:
2.5/5
Release Date: July 19, 2013.
Starring:  Nandamuri Kalyan Ram, Kriti Kharbanda…
Director: Sunil Reddy
Producer: Nandamuri Taraka Advaitha
Music Director: Achu Rajamani,Sai Karthik
[starrater]
[clear]
Type Of Movie (Genre) :
Action (3D)
Story: Kalyan Ram is the son of Veteran Actor Karthik,a big business magnet.Another veteran actor is Suresh,he is the brother of Karthik.There will be a villain gang(Rao Ramesh & Co.,) trying to Kill Karthik.Kalyan Ram tries to save his father every time,if there is an attempt murder.The Villain gang tries to make use of the two heroines(Kriti Karbhanda & Nikisha Patel) to kill Kalyan Ram & his father.In this process,there will be various twists and turns in the film.The whole twists and turns seems to be copied from various filmsFor Ex: Race 1 & Race 2 of Bollywood has these kind of un-expected twists & turns.People seem to be good for a moment but in the next minute,they turn in to -ve characters.There are so many un wanted twists & turns that I can not write down here!You should watch it & analyze yourself.
Direction: Sunil Reddy has penned an interesting tale, which engrossing and entertaining. The movie is all about father-son sentiment and it focuses on how the hero undertake a fight for his father. The director makes amazing grip on the tempo which will surely make you watch it sitting on the edge of your seat.
Screen Play: Slow Screenplay
Overall Performances:Comping to performances, Kalyan Ram has made a grand comeback with Om 3D in which he is the showman. He has delivered excellent performance in the movie. He is at complete ease in all action, romantic and sentimental scene. His dialogue delivery is power-packed and sure to rock the viewers.
As heroine Anjali, Kriti Kharbandha makes a glamorous entry. Although she does not have enough scope for performance, she has used available space and given her best to suit her character. She emotes well in sentimental sequences and her chemistry with Kalyan Ram is also good to watch her on screen.
Nikesha Patel plays second heroine and she appears as Ahuti Prasad's daughter Rhea in Om 3D. When compared to Kriti. She has even lesser scope, but she has delivered her best for the role. Her chemistry with Kalyan Ram is also good.
Rao Ramesh entertains you with his Srikakulam accent. Others like Ahuthi Prasad, Sithara, Suresh, Karthik and Raghu have delivered excellent performances, which are the biggest assets of the movie Om 3D.
Technical Aspects:Om 3D has rich production values. Avatar fame David Taylor and The Amazing Spiderman fame Ian Markus' 3D work is the main attraction in the technical front. These Hollywood technicians have proved that 3D in live action films will sure connect with the viewer as much as in other genres like fantasy, sci-fi, horror and supernatural.
Achu Rajamani and Sai Karthik's music and background score are second big attraction in the technical front. All their compositions are melodious and background score elevates the intensity of several action and sentimental scenes.
Plus Points: Kalyan Ram,
3D Effects(at some instances),
Rao Ramesh Performance.
Minus Points: Slow screenplay, Minimum 3D affect.
Final Words: Finally We can movie average. twists will for every 10-20 minutes.The suspense will be revealed much before and later the flashback comes.So there is no fun in watching,if you already know the twist. One-time watchable.
Overall 25CineFrames Rating:

2.5/5
[clear]