TV9 News Anchor Badri Killed in Road Accident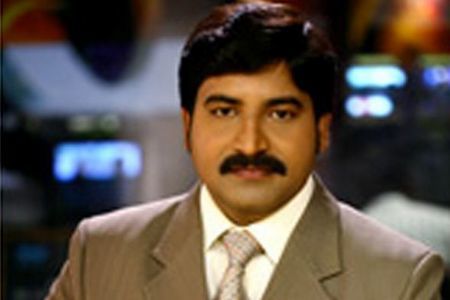 Noted Telugu news anchor Badri was killed in a road accident on Sunday. The fatal accident took place while he was on a family trip to Dwaraka Tirumala. Due to sudden burst of the car tyre, the car he was travelling hit a tree claiming his life. Badri, who was driving the car, said to have died on the spot. His wife and two children, also in the car, suffered severe injuries. They were rushed to Eluru hospital. Badri was 38 year old. Badri's younger son Sai Sathwik (8) too died in the accident. The condition of his elder son is critical. Wife Lakshmi Sujatha is said to be out of danger.
Drunken Hero Ram Charan Creates Nonsense on Roads at Midnight | Chiranjeevi Finally Finds Story For His 150th Film
Badri was young, dynamic and one of the popular news anchors of present age. He shot to fame with his style of anchoring, voice modulation. Badri's voice-overs were equally popular. The sudden demise of Badri came as a shocker to Television audience and his fellow colleagues.
Why Did Anasuya Quit Jabardasth? | Now You Know Why Rajasekhar Dislikes Mega Brothers… | NTR Says No To Dubbing
Badri hails from Unguturu of West Godavari district. Badri's full name is Kalla Veerabhadra Rao. He was born on April 11, 1976. He is survived by wife Lakshmi Sujatha and elder son Sandesh. AP CM Chandrababu Naidu condoled the demise of Badri and directed authorities to supply best medical facilities to injured.