Trisha Krishnan's clarification on her engagement
Mahesh got a special invitation from Nagarjuna? | Poonam pandey for Breast Enhance product Ad | Senior Actress comments on Samantha's Addiction for?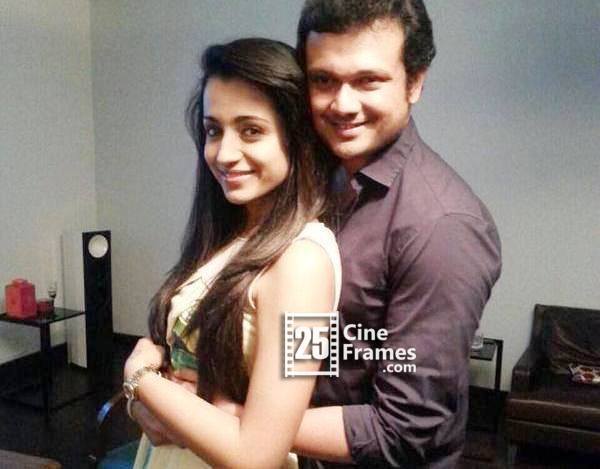 Alright, Trisha broke up with Rana, and there were rumours of her finding her mister right in a businessman, but was she engaged already? No matter how non committal the sources can get, but there are certain signs that just can't be misinterpreted. One such is that of a suspicious ring that Trisha sports on her left ring finger.
A buddy of Trisha's posted a snap of Trisha posing cutely with her heavily loaded left hand, carrying the weight of a beautiful sparkling diamond, and possibly that of engagement. Did we interpret wrong? May be not, for the comments this best bud posted along with the photo reads "A friend of mine is getting married soon." So there, we've nailed it – Trisha is engaged, after all!
Baahubali Dialouges Leaked ? | Sunny Leone Unseen Photos Collection Pics | Heroines playing cricket for 'Memu Saitham' event
But we wanted the damsel's confirmation on this, just so that we are really sure. When contacted by the media, Trisha texted back in all honesty, saying "It is too premature to say anything right now." Alright now, we are back to square one – did she mean a yes or no? But that apart, who is this lucky hunk to claim possession of Trisha's heart and love?
Actress Nude Gifts for Rohit Sharma | Actress Anasuya had Tattoo on her chest | Actress Sameera Reddy is going to have a baby
"I have just returned from Arakku valley, after shooting with Balakrishna. How could I be engaged in the meanwhile? I am not engaged. When I have it in my mind, I will declare it on my own" says Trisha. But she is definitely seeing Varun Manian. So, is he her mister right? Trisha refuses to open her mouth on this; however, she definitely smiles at the mention of this "rumour". All said, until mid 2015, Trisha will be busy shooting her Tollywood flick with Balakrishna. Here is what she tweets