Temper Telugu Movie Review : NTR's Dandayatra on BoxOffice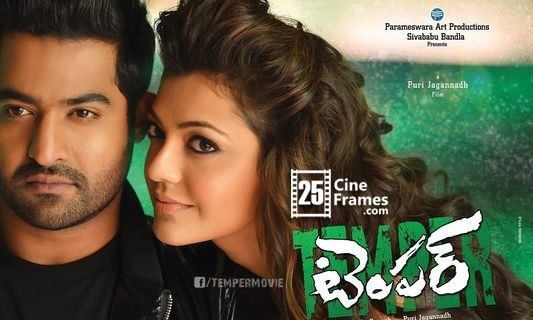 25CineFrames Rating: 3.5/5
Release Date
:
February 12,2015
Starring
:
Jr NTR,Kajal Agarwal
Director
:
Puri Jagannath
Producers
:
Bandla Ganesh
Music Director  
:  
Anup Rubens [Songs]

Mani Sharma [Background Score]
[clear]
NTR's previous two films didn't do well at the box office and even Puri Jagannadh has been in bad form in recent years. Previously NTR and Puri teamed up for Andhrawala, which was a disaster. With so many negative points Temper raised many doubts among film buffs until the theatrical trailer was released. Promos of the film showed lot of promise and raised hopes on the film. Let's see if Temper lived up to the promise or not.
[clear]
Type Of Movie (Genre) :
Action & Commercial Entertainer
Story :
Daya (NTR) is a fully corrupted police officer who gets transferred to Vizag. There he joins hands with Walter Vasu(Prakash Raj) and treads the corruption route. Twist in the tale arises when Daya's girlfriend(Kajal) gets accidentally kidnapped by Walter Vasu. This incident makes Daya very angry and he goes against Vasu and his empire. During this time, Daya also comes to know that there is a bigger motive behind this kidnapping. What is that motive ? Will Daya manage to find out the truth and punish the culprits ? That forms the rest of the story.
Performances :
NTR:
We have not seen NTR like this in any of his previous films. This is completely new NTR be it styling, body language, dialog delivery and performance. Puri Jagannadh is successful in giving complete makeover to NTR and the latter mesmerizes you with his transformation. It is NTR's show all the way. He is too good in the scenes where he does corruption and even better in the scenes when he exhibits emotion. This is easily one of the best ever performances of NTR. It is the best from a Telugu actor in recent times.
Others:
Kajal's character is limited to songs and romantic episodes. She pulls it off gracefully. Prakash Raj is good as a criminal who goes to any end to save his brothers. Posani Krishna Murali is excellent as sincere constable. Madhurima did a key role. Sonia Agarwal and Pavitra did their bit.
Technical Aspects :
Anup Ruben's music is decent as all the songs are peppy and have been shot stylishly. Production values are superb as the makers have not compromised on the visuals. Camera work is top notch and showcases Vizaq beautifully. The way NTR has been presented in a all new attitude is pretty good. Lyrics are quirky and gel with situations quite well.
Dialogues need a special mention as they have been written with a lot of impact. Screenplay of the film is below average in the first half and only picks up during the second half. Puri Jagan is at his supreme best when he deals with stories based on cops. The way he has extracted performance from NTR is excellent. Puri also manages to showcase the problems in the society in a interesting manner and narrates the film quite crisply.
Thumbs Up:
NTR
Direction
Songs
Thumbs Down:
Average first half
No comedy
Analysis:
Plus Points :
Credit should go to Puri Jagan for showcasing NTR in a never before seen avatar. Right from his look to the powerful character he has portrayed, NTR looks a million bucks and is the major highlight of the film. The way he has balanced his character especially during the climax is out standing. NTR's body language and dialogue modulation are at peaks during this part. You will see a new NTR in this film and credit should go to him for portraying such a diverse role.
Prakash Raj once again proves his mettle and gives a decent performance. He looks perfect and all his confrontational scenes with NTR have come out extremely well. Kajal looks gorgeous and provides the necessary glamour. Madhurima is quite good in her role and brings in the necessary impact.
Posani is superb as NTR's sidekick and evokes awesome emotions throughout the film. Second half is the heart and soul of the film and runs on a emotional mode. The court episode during the climax evokes thumping applause from the audience and has been handled quite effectively. Chemistry between Kajal and NTR is outstanding.
Minus Points :
First half of the film is just average. Had Puri brought in some basic entertainment values during this part, the output would have been even more effective. Kajal has absolutely nothing to do in the second half.
Story of the film is quite routine and gets predictable. Subjects like these have been dealt many a times in the past. Sonia Aggarwal is wasted in her role.
Final Words :
On the whole, Temper has everything which NTR fans can eagerly look forward to. NTR's stylish look and super strong characterization are major assets of the film. If you can ignore the routine story, you are in for an emotional entertainer which is going to become a perfect comeback hit for Young Tiger
Overall 25CineFrames Rating :

3.5/5
[clear]
Updated at 07:50 AM
Climax done…keep watching this space for the complete movie review
Updated at 07:47 AM
Twist in the climax a heavy duty fight is on now
Updated at 07:40 AM
NTR is all charged up and giving a terrific performance…
Updated at 07:34 AM
A heavy duty court scene is on now….
Updated at 07:30 AM
Yet another twist in the tale. Movie heading towards the climax
Updated at 07:25 AM
Time for yet another song devudaa devudaaa is on now….
Updated at 07:15 AM
Sonia Aggarwal.makes an entry as a doctor
Updated at 07:13 AM
Time for the temper title song NTR is going crazy with his dances
Updated at 07:10 AM
NTR is giving a terrific performance in a powerful role….
Updated at 07:00 AM
Some comedy scenes featuring Jaya Prakash reddy are on now
Updated at 06:40 AM
Post interval the movie gets quite serious
Updated at 06:21AM
A simple and predictable twist in the take interval now.
Updated at 06:16AM
Madhurima makes an entry now….
Updated at 06:14AM
The movie shifts into a serious zone.. Posani's character has come out quite well
Updated at 06:00AM
The second song one more time is on now…Kajal looks gorgeous. …
Updated at 05:49AM
Ali and Saptagiri make an entry now
Updated at 05:43AM
Kajal Aggarwal makes an entry as animal lover Sanvi
Updated at 05:36AM
The first item song Ittage recchipodam is on now….
Updated at 05:27AM
NTR'S body language and dialogue delivery is just awesome
Updated at 05:26AM
A heavy duty fight scene is on now
Updated at 05:15AM
Here comes the one and only NTR. …The movie straight away heads to flashback mode
Updated at 05:13AM
Crowds are going beserk as the titles are rolling…
Updated at 05:10AM
The movie has just started with NTR's voice over for road safety…
[youtuberesponsive listtype="custom" listvalue="SQgRN5tu1f4″ center="true"]
[youtuberesponsive listtype="playlist" listvalue="PLbACav7wnIVTx8w69RwMXt6Ocpd0QhhVN" center="true"]