Tapsee happy with her success
Successful Track:-
The beautiful and talented Indian actress Taapsee made her debut with the movie Jhummandi Naadam by K. Raghavendra Rao in 2010. This movie was a romantic musical.  The story line is about a millionaire from the US visiting India to do musical research on traditional music in Telugu in which Tapsee plays the lead role of the daughter of the US based millionaire. While the film was awaiting release, Taapsee received three other offers in Telugu.  She did not stop at that. She moved on to Tamil Cinema debuting in her next but first Tamil movie Aadukalam 2011 in which her role was an Anglo-Indian girl's love story with a suburbanized person. At the 58th National Film Awards ceremony the super hit film that starred the Tamil Star Dhanush won six National Film Awards. Set in the backdrop of Madurai showcased a lot of cockfights which is a culture there. The movie did well and received critical acclaim and fans were all praises the super debutant Taapsee was best suited and played the role well for the role of Anglo-Indian. In the same year 2011, Tapsee did another Telugu film Vastadu Naa Raju opposite Vishnu Manchu. She also did a Malayalam movie called 'Doubles' in the same opposite Nadiya Moidu and the famous Malayalam actor Mammootty.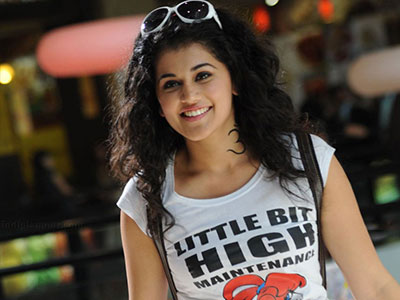 Her Success Break:-
This Punjabi 'Kudi' was a model prior to her acting career. She got bored of her job when it became monotonous and then thought of her acting break. She is now into all of South Indian Cinema and is showing up in few Bollywood Cinema too.
Present Status:-
Presently, she is enjoying success of Pink about bold women like herself starring along with the Bollywood 'God' Amitabh Bachchan which she describes as her 'Career Landmark'. The movie released 16 September 2016 and was hit at the Indian box office. Wish you many more successful movies ahead!