Swathi writes Special poem on Gossips and Co-Stars
Actress Swathi Reddy who is facing a lot of rumours with her co-stars in the film industry has bring out poet in her and penned a poem to deal with all the rumour mills being spread around her.
"I wrote this poem last night and dedicate it to all my friends in the industry who have to survive constant scrutiny and judgment. Yes, it's our job, but everyone has a bad day, that's when we need to find inspiration from within. I am sure many of you will relate to this, which ever field you are from.#bestrong." posted Swathi in her official Facebook page. Along with the below Poem.
"Some eyes just see your weakness, And their lips spread ugly lies. They use their large, large wings, They use them to fly fast and high.
That's when you call out to truth, Your slow poke friend, who is behind. You urge truth not be a shadow, But please come out and shine.
Mega Family Tears because of RamCharan | Anushka Shetty Marriage & Husband details! | Rajnikanth, Mahesh Babu multi-starrer OFFICIALLY Confirmed
Testing and teasing, Truth takes a while. A schedule it follows, in it's own sweet time.
Truth is a naughty fellow, it will sneak up from behind, Boy! it's got it's timing, And, the timing is wickedly divine.
When youire reduced to rumors, When it's their job to hurt your pride, Be like the lotus in a murky pond, Rise above the filth, And keep your identity alive"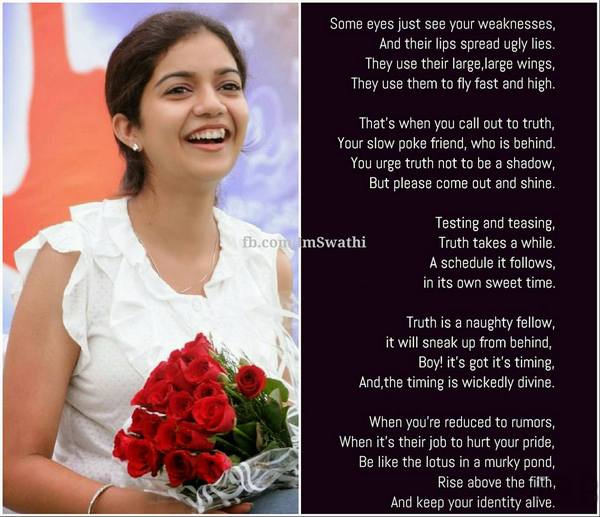 Anushka Shetty stops signing films for a Reason | Gopala Gopala Leaked Photos Pawan Kalyan Venkatesh | Shruti Haasan wants to become mother before marriage