Superstar,MegaPowerstar with Victory Venkatesh ?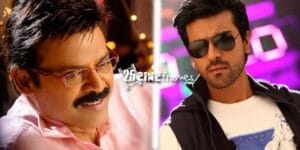 Victory Venkatesh startled multistarer movies in Tollywood industry with "Seethamma Vakitlo SirimalleChettu" which has become blockbuster at BO. Now, he is on the sets of "Masala" with Ram which is another multistar movie. This film is remake of "BolBachan" will create a record in tollywood industry. However Akkineni's family is busy in shooting "Manam" which is also a mutistar movie aheaded with three generations.
Recently we have a news in Film nagar about the next movie of Venkatesh that "It will be directed by KrishnaVamsi and It is produced a Blockbuster producer Bandla Ganesh. In this movie venkatesh acts as "Babai" for cherry and a crucial role will be played by Superstar Krishna. But, as Superstar is not interested in filming, the director was in search of a senior actor suitable for that character. In this movie another important role will be played by Nagababu."
Is this the film which had to played by the Akkineni's family and stoped because of some reasons? Is the story is same or a new one? However we have to wait few more days for a clear information Presently Script work is going for this film.