SuperStar Krishna Completed 50 glorious successful years in Telugu Film Industry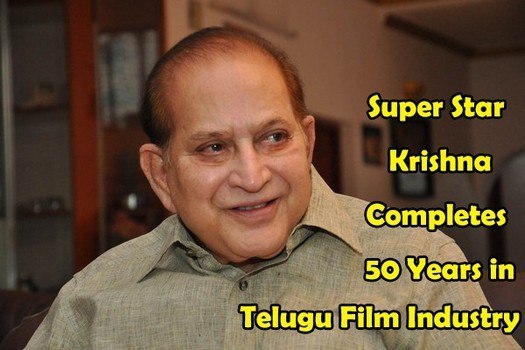 This March 31st marks the half Century of his successful journey in Telugu movie industry as a hero.
A Very Big festival to Telugu Film Industry On 31st March, 1965, Krishna's debut movie as a hero 'Tene Manasulu' directed by director Aadhurthi Subbarao got released. That marks his half-century as a hero among next few days although he debuted as actor in 1962. Since then Super Star Krishna has done Extra-Ordinary films, scored records, introduced new technology and brought several skills to Telugu Film Industry. From simply a hero he emerged as studio owner and went on manufacturing beautiful movies. Films like Seetharamaraju, Mosagallaku Mosagadu, Simhasanam, Devudu Chesina Manushulu, Pandanti Kapuram, Devadasu, Agnipariksha, Meena, Ooriki Monagadu are mere glimpses of his great work.
'I've ne'er fanciful that i am going to become an enormous made star with career spanning for many years. At that point i am happy that my first flick as hero scored well. nowadays after I relive, that film are going to be finishing fifty years. that is awesome', aforementioned superstar krishna, whereas interacting with media relating to the superb action.
25Cineframes.comis wishing SuperStar Krishna garu a happy,healthy life and fulfilling years to come