Star Wives behind Promotions and Planning
Usually, movie promotions are held by the movie unit that include the main leads of the movie and other crucial members involved in making of the movie. Earlier, there were no such promotions, success meets and launching events for theatrical trailer, teaser, etc. All these events have become quite popular these days as they are useful to create hype among the audience about the movie and the stars acted in the movie. Slowly, this culture have become rapid and even the wives of star heroes are taking part in the promotions of movies in the Tollywood film industry.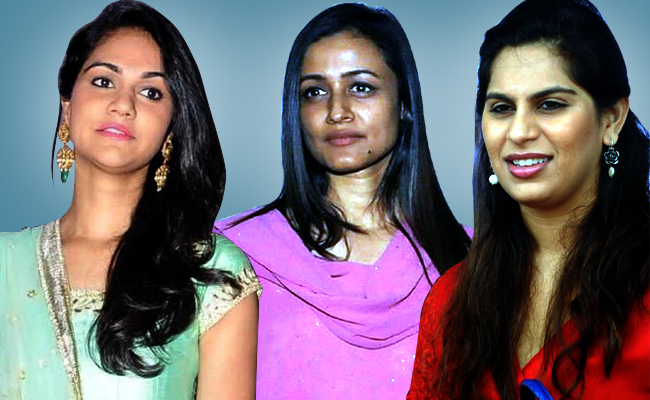 We are quite familiar with these actor's wives though they might not appear on screen in the movie. Currently, the news is that three popular spouses of heroes in Tollywood have hopped into the movie career of their husbands rendering suggestions, planning their schedule and much more. All the three wives of heroes are none other than Namrata – wife of Mahesh Babu, Sneha Reddy – Wife of Allu Arjun, Upasana – Wife of Ram Charan Tej. They have now totally involved in taking care of their husband's career and other business relateddealings.
Namrata – Mahesh Babu
It is well-known that Namrata is the spouse of most popular and handsome heroes of the Tollywood film industry. She has been involving in the film career of Mahesh Babu helping him in promoting his films. Earlier, she has taken care in dealing contracts with corporate companies whenMahesh Babu was a brand ambassador to some products. Mahesh Babu is the most popular celebrity brand ambassador in South India earning crores.
Recently, Mahesh Babu has secured a top place in the Forbes list of wealthiest heroes from the South Indian Film Industry. For the upcoming movie of Mahesh Babu, "Brahmotsavam", she is taking care of production and promotion right from the commencement of the movies' regular shoot. She is a perfect wife for Mahesh Babu looking after everything and handling every single matter of Srimanthudu.
Sneha – All Arjun
Allu Arjun, one of the most energetic actors in Tollywood film industry completely relied on his wife Sneha Reddy to take care of his career. Earlier, Bunny used to depend on his friend cum manager Bunny Vasu. After getting married, Allu Arjun has completely depended on Sneha, who is planning everything for her husband.
According to some sources, Sneha has ostensibly broken down the involvement of Bunny Vasu and other staff in Allu Arjun's career. She seems to be his best guide. In an interview, Bunny also mentioned about his wife saying that she has brought drastic change in me and taught me several things. Sneha's contributions for "Sarainodu" movie have remunerated off well, says Bunny.
Upasana – Ram Charan
Upasana, wife of Ram Charan Tej has employed a throng of team for managingall the PR and promotional activities of Mega hero Ram Charan Tej. Upasana is quite different from Sneha and Namrata. Upasana is a great business woman who has capabilities to run an organization in an effective manner. Since, she doesn't have much time to look after her husband's career; she has recruited a special team from Mumbai to manage all the chores of Charan.
This way all the three popular heroes have been managed by their respective wives including their career planning and other business dealings.