Sri Sri Movie Review Rating, Story Line – Krishna, Vijaya Nirmala
Super Star Krishna, the Veteran actress from the Tollywood film industry has acted in a latest movie titled Sri Sri. The movie has hit the theatres on 3rd June, 2016 worldwide. Sri Sri Movie is the latest flick starred by Superstar Krishna and Vijaya Nirmala. The movieis directed by Muppalaneni Shiva and produced by Sri Saideeep Chatla, Balu Reddy Yeruva, and Shaik Siraj under the Sri Balaji Srinivasa Productions. The music and background score for this movie is composed by ES.Murthy. One of the specialties of this movie is Sri Sri Movie is the silver jubilee film of Superstar Krishna.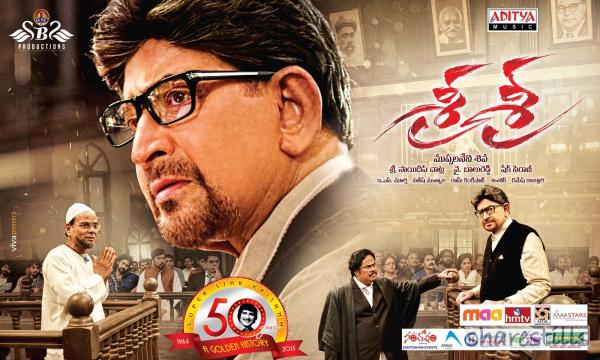 Sri Sri Movie Review & Rating
Krishna, the Super Star of South Indian film industry has the craze and charm despite at old age. This film also marks the 50 Prosperous years of Superstar Krishna in Telugu Film Industry. Sri Sri is an action thriller directed by Muppalaneni Siva and produced by Saideeep Chatla while E S Murthy has givenbackground score and music for this movie. The story line of the movie is routine and we can even predict the story without even watching it completely.
Sri Sri Movie Story Plot
The latest movie Sri Sri is claimed to be a revenge drama. The movie is all about a common man, who gulps the morals of Telugu poet and lyricist Srirangam Srinivasa Rao in his life. Krishna plays the lead role in the movie while his wife Vijaya Nirmala played his wife role and her son Naresh hassignificant role in this movie. Murali Sharma as J K Bharadwaj is virtuous in the leading role.
Sri Sri Movie Cast & Crew:
Star Cast
Super Star Krishna
Vijaya Nirmala
Naresh
Saikumar
B Sri Ram
Posani Murali
Director
Story
Production Banner
Dialogues
Music
Editor
Cinematography
Positives
Krishna Screen presence
Cinematography
Negatives
Final Verdict
The story of the movie is routine and expected. Sri Srimovieis an action and crime movie with decent portion of entertainment but may not be a remarkable comeback for the Superstar.
Sri Sri Movie Rating: 2/5