Something Something Movie Review : One Time Watchable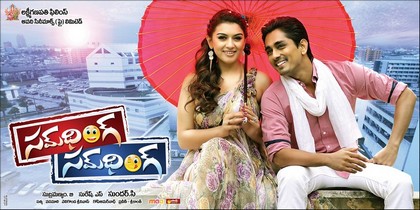 25CineFrames Rating:
2.75
Release Date:14 June 2013
Starring: Siddharth, Hansika Motwani, Brahmanandam
Director: Sundar C
Producer: Subramanyam.B, Suresh.L
Music Director: C Sathya
Banner: Lakshmi Ganapathi Films, Avani Cinemax Pvt LTD
User rating : [starrater]
[clear]
Type Of Movie (Genre) :
Commercial [Romantic, Comedy]
Story: Kumar [Siddharth] who born in family believe in Love Marriages but unfortunately our hero kumar hates concept of love and relations. He leads simple and straight forward life
All the concept of Kumar Changes suddenly with the entrance of Sanjana (Hansika Motwani) who newly joins in kumar office. He falls in love at first sight of sanjana. Hmm then what will happen he is trying continuously to woo her But he faces stiff competition from George (Ganesh Venkatraman), the office stud. 
Kumar now decides to approach Premji [Brahmanandam] who is expert in MatchMaking but here comes a great TWIST. What is the Twist? Later what happens? Will they marry? It will form the rest of the story. For that you must watch the movie on big screen…
Direction: Sundar direction is good in all areas of the movie.
Screen Play: week and lacks clarity
Performances: Coming to the star performances Siddarth done a very nice job here. We know Siddarth well and also he will perform well in comic roles. Here also do the same. Comedy episodes between Siddarth and Brahmi are really superb. Hansika looking cheerful here. She had done justice to her role. Ganesh Venkatraman of Dhamarukam fame done a beautiful job as George. Coming Brahmanandam he is good as Premji. His comedy timing is wonderful. Samantha and Rana Daggubati are also looking beautiful in their guest roles. Rest of the supporting cast also had done justice to their respective roles here.
Technical Aspects: Sundar direction is also good in all areas of the movie but fails in screenplay but screenplays in Brahmanandam and Siddarth episodes are humorous. Music by Sathya is huge negative amount to this movie. Background score also not that much effective. Cinematography by Gopi Amarnath is good in all areas. Editing by Praveen K.L, N.B.Srikanth is looking second-rate. Lyrics by Vanamali are just ok. Dialogues by Veligonda Srinivas are first class. But the movie dubbing quality is poor here. Production values are good overall.
Comedy: YES, 50% of movie goes with comedy and mainly runs between kumar (Siddharth) and premji
Plus Points: Siddarth, Hansika, First Half, Comedy
Minus Points: Screenplay, Second Half, Old Story
Final Words: Movie is Romantic and Comedy. It is One Time Watchable
Overall 25CineFrames Rating:

2.75/5
[clear]