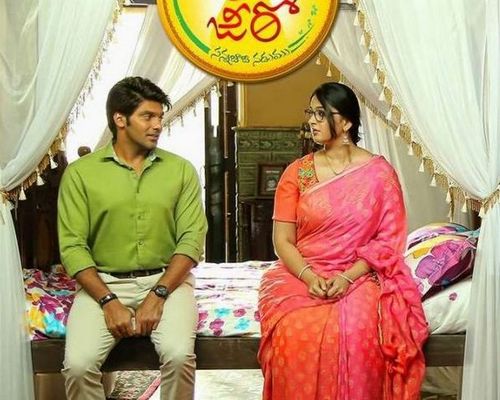 25CineFrames Rating:

 3/5
| | | |
| --- | --- | --- |
| Release Date | : | Nov 28,2015 |
| Starring | : | Arya,Anushka Shetty |
| Director | : | Prakash Kovelamudi |
| Producers | : | Prasad V Potluri |
| Music Director   | :   | M. M. Keeravani |
​After a huge promotions in all categories, the Size Zero movie directed by Prakash Kovelamudi has finally hitting the screens​ all over the world today. Let's see how the movie is.
Updating Soon…
Type Of Movie (Genre) :
Drama , Comedy
Story :
Sweety(Anushka) is a cute looking girl who suffers from overweight issues. Even after so many attempts, her mother fails to get her married. Disappointed with rejection all the time, Sweety decides not to marry in the near future.
This is also the time when she meets Abhi(Arya), an NRI who makes documentary films. Sweety falls in love with Abhi and starts getting closer to him. Twist in the tale arises when Abhi starts shifting his loyalties towards his stylish close friend Simran(Sonal Chauhan).
Disappointed with rejection yet again, Sweety decides to join a weight reducing program called Size Zero. Will Sweety be successful in reducing her weight ? What problems does she face during this time ? and Will she win her love back ? That forms the rest of the story.
Technical Aspects :
Production values by PVP are good and credit should go to them for coming ahead to attempt a unique script like this. Camera work is very good and highlights Anushka and the surroundings quite well. Screenplay is let down during the second half as the film loses its grip a bit. Editing is sleek and M M Keeravani's music score gels with the mood of the film well.
Coming to the director Prakash Kovelamudi, he had everything right for this film. Right from the story, star cast and performances, he manages to do a decent job. Had he taken a bit more care during the second half the effect and connect would have been even better.
Plus Points :
First Half
Anushka Shetty
Music
Production Values
Minus Points :
Second Half
Songs
Editing
Screenplay
Final Words :
On the whole, Size Zero is a film which has some interesting moments going its way. Interesting premise and a superb first half are basic positives of this film. If you manage to ignore the mediocre second half and predictable nature of the script, you can easily give this film a shot for Anuhska's stunning performance and some feel good moments.
Overall 25CineFrames Rating :

?/5