Shruti Repeats What Renu Did With Pawan
Sometime back, Powerstar Pawan Kalyan's Sardar Gabbar Singh movie has hit the theatres but couldn't impress the movie adorers and remained as a failure for the hero. Regardless of the success and failure faced by the actor, Power Star Pawan Kalyan is rapidly moving on in shooting his upcoming movie under the direction of SJ Surya. Pawan will be once again repeating the combination with the producer cum his friend Sharrat Marar to produce his next film.
Interestingly, the makers of the movie have roped in graceful actress Shruti Haasan to share screen with Pawan Kalyan once again. There are few rumours that Shruti Haasan who has been chosen for the female lead role might be replaced with some other heroine. Although rumours that Shruti may be substituted due to her dates being engaged by her father's Subhash Naidu's project, yet it has been confirmed that Shruti will certainly play the female lead role in Pawan-SJ Surya's movie.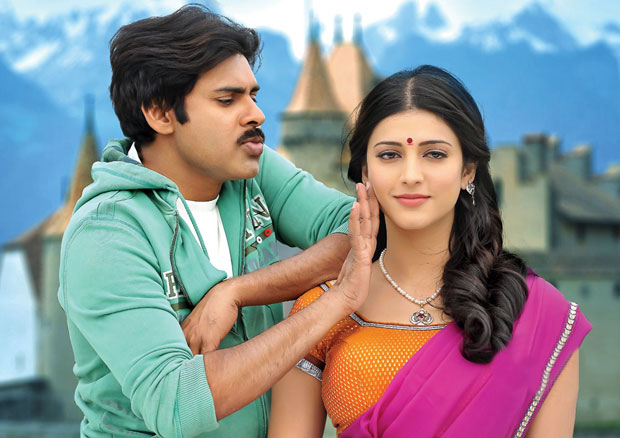 Earlier, Shruti has acquired a chance to act with Pawan Kalyan in Gabbar Singh movie which has become a tremendous success and that movie has given a big break for the actress. Now, Shruti has once again grabbed the chance of acting with Pawan Kalyan in his next movie. By acquiring the chance to act in combination with Pawan for the second time after Gabbar Singh, Shruti has attained a rare act of romancing Pawan twice. Besides Shruti, only Renu Desai, Pawan's ex-wife, joined up with the Power Star two times in Badri and Johnny.
By the way, the first movie of both Renu and Shruti with Pawan, Badri and Gabbar Singh, were tremendous blockbuster hits. On the other hand, Power Star fans are cautious of the fact that Pawan-Renu's second flick, Johnny, was a disaster and fans don't wish that the second movie sentiment to recur with Pawan-Shruti's next movie.