Secret Reason behind scar on Shruti Hassan's shoulder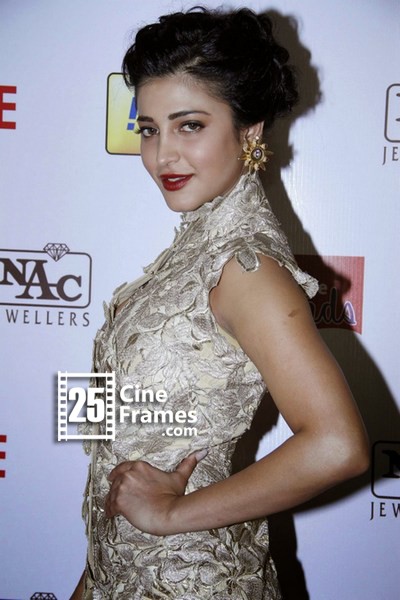 The scratch on the shoulder of Shruti Haasan, who grabbed much attention of the Tolly-Kollywood audiences within a short span of time, has befallen a hot topic. Recently, Shruti Haasan made her presence in a golden colored dress at the Film Fare award function held in Chennai. It was not only her beautiful attire and her beauty itself that grabbed the attention of the masses, but also the scar on her shoulder. Within no time the buzz spread all corners of the film circles.
It is learnt that Shruti Haasan was wondering why everyone was repeatedly staring lat her. When she learnt about the matter, she herself has allegedly come out with the explanation that the wound was made by her pet animal – puppy. She explained that unexpectedly the puppy happened to bite her when she was on a film shoot. Nevertheless, the detective media people posed a question in turn and asked her why there was only a single scar and not two, as it usually happens in a puppy bite. Reportedly, Shruti Haasan had no answer for the same.But a Single bite is a Common thing will happen to so many people.