Samantha Prabhu's New Avatar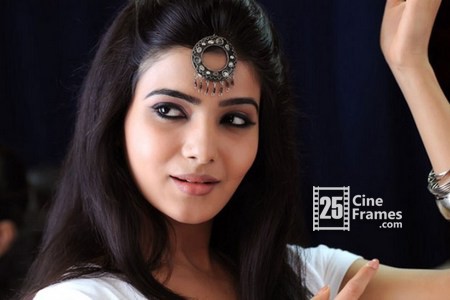 It's necessary for our heroines to try new looks and keep changing their styles in order to keep up with the tough competition. But sometimes this pursuit can go wrong and leave fans disappointed.
In this case though, Tollywoods top actress Samantha has recently been seen in a sizzling new avatar in Alludu Seenu which has been drawing major attention.
The movie released Friday is drawing unbelievable crowds to the theatres. Samantha was seen opposite debutant hero Sai Srinivas Bellamkonda shaking leg to five upbeat songs composed by Devi Sri Prasad.
VV Vinayak who is the director of the film has a knack of mixing commercial entertainment with high mass quotient. Samantha who has an immense fan base in A centers has now VV Vinayak to thank for as she is attracting large crowds in B and C centers as well.
She has gone from the girl-next-door look to this glamour's makeover showing a much needed variation. Her designer Neeraja Kona has collaborated with the director to produce a look that was risqué yet very appealing. End of the day this new avatar of our Golden leg girl has left her fans wanting for more.
Samantha who is known to be one of the most fashion forward heroines of the south sure pays a lot of attention to producing new looks and to keep her fans looking forward for more. Her upcoming films Rabasa and Sikander are due to release later this month.
Press Release by: IndianClicks.com