Samantha Delete twitter Post
As you know Brahmotsavam is the recently blockbuster movie which has been launched on 20Th May 2016, Starring Mahesh Babu and Three other actress,  Samantha Is one of them.
Prior to the release of 'Brahmotsavam'  Samantha Posted a tweet on twitter relate to the song 'BalaTripuramani' Song, which said "Obsessed with balaTripuramani #brahmotsavam. You know why more after you see the video. Superstar at his best ever"
If you haven't seen the video go see it now, and the tweet which was posted by Samantha directly tells that she like cute dancing steps of Mahesh Babu in the song, and also the song has become entering and fun for the Anti-Fans of Mahesh Babu,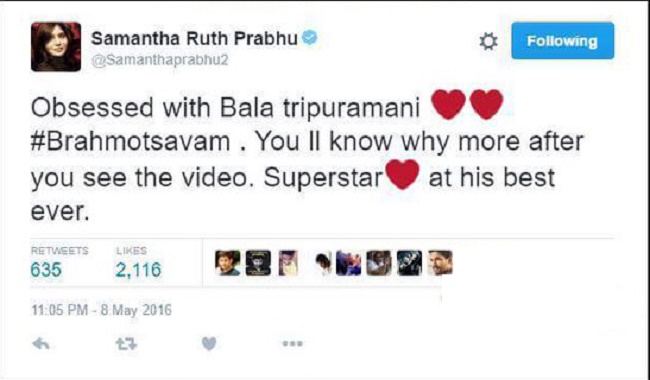 But the reason she deleted this posted because she have feared that her tweet might be used for Trolling Mahesh as his dance moves in that songs are said to be funny, Samantha tweeted that post in  positive way by the song has made Mahesh Babu a Laughing troll on the internet. People also pointed out that Samantha Purposely made Fun of Mahesh Babu and ended up in Controversy When she posted negative comments on Mahesh's 1 Poster.
The superstar Mahesh Babu is expected to leave to Abroad with his family.
Even Samantha is receiving Flak or her performance but the actors cannot do anything, when the director have made and decided the script for them.
As of now the total Collection of the Mahesh Babu latest movie 'Brahmotsavam' collected Rs 26.51 Crore at the end of first Weekend's run. The movie has been directed by Srikanth Addala on PVP cinema. And also Mahesh Babu is ready for his next movie and script