Sahasam Movie Review : Successful Adventure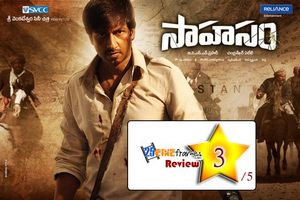 25CineFrames Rating:
3/5
Release Date: July 12, 2013
Starring:  Gopichand, Taapsee..
Director: Chandrasekhar Yeleti
Producer: B V N S Prasad
Music Director: Shri
User rating : [starrater]
[clear]
Type Of Movie (Genre) :
Action – Romance.
Story:Gautam is a security guard who dreams of becoming a big man by a sudden stroke of luck. His dream comes true and he finds the will his grandfather had left for him. The will gives him clues to find 900 diamonds from the times of King Kanishka that could be Gautam's, if he manages to find them in a temple that is now in Pakistan.
Gautam manages to reach Pakistan with the help of a devotee played by Taapsee. Naturally, there has to be a villain who is on a lookout for the treasure. So, in comes the Pakistani terrorist Sultan played by Shakti Kapoor.
Goes without saying, the rest of the movie revolves around how Gautam manages to lay his hands on the treasure, how he fights the terrorists and if he manages to return to India safely.
Direction: Chandrashekar Yeleti continued his style of movie making with Anukokunda oka roju, Okkadunnadu and Prayanam. He has come up now with big budget Sahasam. Chandrashekar Yeleti has done a daring feat by selecting this type of story. Hero's journey in search of treasure appears like a well crafted puzzle. Director has succeeded in maintain suspense all through the movie. Selecting a different backdrop and location has helped in taking movie in a new way. Movie gets into pace after second half. Though slow narration irks at times, pace picks up by climax and engrosses viewers.
Screen Play: Slow screenplay but fine
Performances:Gopichand gets his comic timing right during the initial scenes. He manages to get into his role and tries to go beyond the usual mass hero image. The second half is totally action-filled and he fits in easily. The leading girl Taapsee is OK. Nothing much to write about her role, but she pulls it off well.
Shakti Kapoor gets a meatier role. His make-up and the way his character has been shaped up are good. Being a senior artiste, he puts in a good performance as the terrorist. There are few comedy scenes in the climax and he is simply superb in them. Ali evokes a few laughs. Suman and Narayana Rao play their regular parts.
Technical Aspects: Music by Sri is nothing to write home about, but the background score is definitely good. Dialogues, especially the comic dialogues by Radha Krishna are the highlight.
Technically, Sahasam has taken the game a few notches up.
The art director too has done good work. The sets are impressive. Visual effects during the opening scenes are really good.
On the whole, the editing should have been crispier. Some scenes are too lengthy.
One must appreciate the producer for putting in money in a project that is different from mainstream commercial films.
Plus Points: Cinematography, Production Design, Theme
Minus Points: Slow screenplay, Liberties with the Story
Final Words: Technically Superior and highly enjoyable for adventure fans. worth full movie
Overall 25CineFrames Rating:

3/5
[clear]