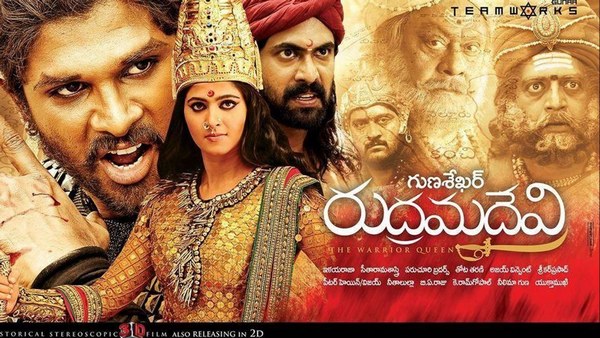 25CineFrames Rating: 3.5/5
| | | |
| --- | --- | --- |
| Release Date | : | October 09,2015 |
| Starring | : | Anushka Shetty, Allu Arjun, Rana Daggubati |
| Director | : | Gunasekhar |
| Producers | : | Guna Sekar |
| Music Director   | :   | Ilaiyaraaja |
Talented director Gunasekhar, has been living a dream called Rudrama Devi from the past seven years. The magnum opus has finally hit the screens today after a huge round of promotions. Let's see whether it lives up to its expectations or not.
Updating Soon…
Type Of Movie (Genre) :
Drama,Action
Story :
The story of the film is set in the ancient Kakatiya dynasty of Orugallu. The majestic kingdom is ruled by Raja Ganapati Devudu(Krishnam Raju) who does not have any male successors. As time passes by, Ganapathi Devudu's wife gives birth to a baby girl Rudrama Devi(Anushka).
Fearing that his long time enemies from the Devagiri dynasty would attack him after knowing that he has no male successors, the king decides to announce Rudrama Devi as prince Rudra Devudu to his empire.
Rudrama Devi grows up like a warrior and keeps her identity under wraps. Twist in the tale arises when the entire Kakatiya dynasty comes to know that the young prince is actually a girl.
What will Rudra Devudu do now ? Will he declare himself as the royal Rudrama Devi and fight the enemies ? and where does Gona Ganna Reddy(Allu Arjun) and Chalukya (Rana) feature in all this set up. To know answers to all these questions, you need to watch the film on the big screen.
Technical Aspects :
Ilayaraja's music score is below average but his background score is decent in certain parts. Dialogues are pretty good and especially those written for Allu Arjun are worth a mention. Camera work is top notch and showcases the royal visuals in a grand manner.
The palace sets, costumes and the various props used are designed nicely. Production values are top notch as the makers have spent lavishly in giving the film a grand look. Rudrama Devi has a mixed bag of visual effects. There are certain VFX scenes which have been executed well and at the same time the graphics used in some war episodes look silly.
Coming to the director Gunasekhar, he has put his heart and soul working for this film. Most of the first half he plays his cards right and sets up an interesting interval bang. But sadly, he makes things tedious during the second half and does not elevate the required scenes.
Plus Points :
One of the striking points is the scale of the film. The huge budget spent is clearly visible in the form of huge sets and VFX work. Allu Arjun is undoubtedly the major highlight of the film. Gunasekhar has designed his character supremely well and Bunny does an awesome job with his diction and rugged look. The way stylish star has infused a comedy touch into his character is remarkable.
Anushka looks regal as queen Rudrama Devi and does her job with a lot of dedication. She has worked very hard for the war sequences and looks extremely glamorous in the songs. Rana plays his part well and ably supports Anushka in her endeavors. Prakash Raj and Krishnam Raju suit their roles aptly. After a long gap, Suman gets an important role as a baddie and performs extremely well.
First half of the film is pretty decent and showcases the growth of Rudrama Devi as the prince. Certain visuals and the way Allu Arjun's character has been introduced is superb. There are many grand visuals in the film which have been handled well with VFX work.
Minus Points :
One of the major drawbacks is the drag in narration. After setting up the first half in a decent way, Gunsekhar let's the film down with some mediocre direction. He takes a lot of time to establish Rudrama Devi as the queen and does not elevate her character much. There are way too many characters which come and go into the proceedings.
Also, the way certain characters have been introduced lacks the desired effect. Stars like Nithya Menen and Catherine Tresa have been completely wasted in their roles. Second half of the film has a lot of lags and takes for ever to reach the climax. Gunasekhar also fails to generate the necessary emotions from crucial characters.
Songs in the second half only delay the film's proceedings. Screenplay is below par during the second part as many scenes take their own time to unveil.
Final Words :
On the whole, Rudrama Devi is a decent attempt from Gunasekhar. Heavy duty star cast, rich visuals and Allu Arjun's stunning character elevate the film to a decent level. But a dragged out narration and slow pace of the film makes things tedious during the second half. The film is bound to get some huge openings because of the buzz it is carrying. Finally, if you keep all your expectations in check and go with the flow of the film, you can easily give this film a shot for its lavish film making and historical lineage.
Overall 25CineFrames Rating :

3.5/5
Updated at 04:31 AM
Movie done.. Keep watching this space for the complete review..
Updated at 04:30 AM
Climax done.. Allu Arjun makes an impactful exit in the film
Updated at 04:27 AM
A heavy duty climax is on now.. Anushka is making an emotional speech
Updated at 04:21 AM
An interesting revelation has been made during the climax.. Allu Arjun is superb in his rule.
Updated at 04:12 AM
A heavy duty war sequence is now being showcased.. VFX is at full work
Updated at 04:02 AM
The movie has become quite serious now. A huge plan for a mammoth war is being planned
Updated at 03:52 AM
Time for another song featuring three beauties Anushka, Catherine and Nithya Menen.. Sets look pretty good.
Updated at 03:45 AM
Twist and suspense in the film finally revealed.
Updated at 03:39 AM
Some emotional scenes between Anushka and Nithya Menen are on now..
Updated at 03:25 AM
Post interval the film gets romantic.. A sensuous song featuring Rana and Anushka is on now..
Updated at 03:10 AM
Interval time. Movie has reached half way on an interesting note.
Updated at 03:06 AM
A very interesting interval sequence between Anushka and Allu Arjun is on now..
Updated at 03:03 AM
A massive fight is on between Anushka and Baba Sehgal
Updated at 02:58 AM
A very interesting twist in the tale now.. Movie heading towards interval
Updated at 02:54 AM
Time for the second song.. Anushka is showcased in a very sensuous way.
Updated at 02:47 AM
Nithya Menen and Catherine Tresa makes an entry as young princesses..
Updated at 02:43 AM
Characters are being introduced with jet speed. Rana makes an entry now…
Updated at 02:38 AM
Here comes the Stylish Star Allu Arjun as Gona Ganna Reddy. The crowds are going berserk… Bunny's Telangana slang is superb..
Updated at 02:30 AM
Time for Anushka's introduction song.. Lavishly shot and looks like an eye feast..
Updated at 02:21 AM
Here comes the one and only Anushka Shetty.. A massive fight with an elephant is on now.
Updated at 02:15 AM
The scene shifts ten years in time.. Movie has begun on a quite interesting note. Baba Sehgal makes an entry as Nagadevulu
Updated at 02:05 AM
Srikanth's son Roshan makes an entry as a young prince. Visuals effects and art work are very good.
Updated at 01:58 AM
Krishnam Raju and Prakash Raj have come in. Visuals look good
Updated at 01:54 AM
Some scenes featuring Kakatiya dynasty are being showcased now
Updated at 01:50 AM
The movie has started with Megastar Chiranjeevi's voice over
Updated at 01:48 AM
Hai.. The film has just started and is 158 minutes long…