Renu Desai Stunned By Her Own Advertisement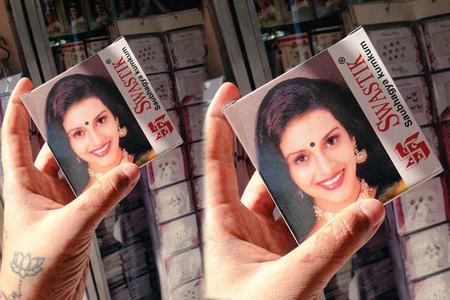 Of course, once you are out of the main stream modelling or cinema career, then everything that was done in the past looks like a mistake. Same thing happened with former heroine and ex-wife of Pawan Kalyan, Marathi lady Renu Desai.
Is this the end for Kajal Aggarwal ? | Akkineni movie Heroine Sayesha HD Photos
When Renu is taking a stroll in Pune's local shopping markets today, she encountered a 'bindi' packet. Shocking her instantly, the 'bindi' packet features a photo of herself that was taken almost 18 years back.
Then Pawan Kalyan, Now Jr NTR – Can We Believe? | Kajal in Temper
During her early days in modelling, Renu posed for various brand and starred in music videos like Shankar Mahadevan's Breathless. At that time, she shot for cosmetic brand 'Swasthik' that manufactures bindis and other decorative material for women.
Calling it as 'small surprises of life', Renu Desai shared a picture of the bindi packet. After all, she has passed the phase of modelling and acting, and that's why she is so stunned today. Needless to say, Renu is so beautiful on that packet.