Ram Charan's Statement On Chiranjeevi's 150th Film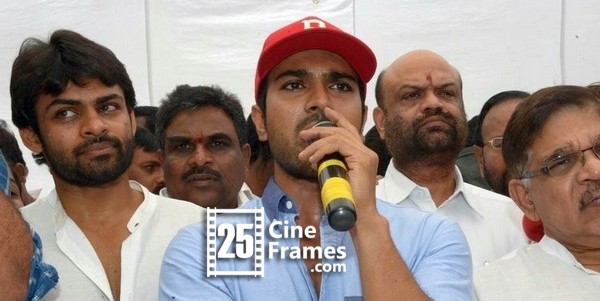 Megastar Chiranjeevi is not rushing to start his 150th film without any proper script on the table. Speaking with media the other day on the occasion of his birthday, Chiranjeevi clarified that script is yet to be finalized. However, everyone is eagerly waiting for Ram Charan's statement on this 150th flick, as he happens to be donning producer's hat for the colossal project.
'There is lot of enthusiasm around this 150th flick. Every hour or the other, inquiries are happening about it. As a producer, I will promise clarity about the prestigious flick in a month's time', said Ram Charan, after attending Chiranjeevi's birthday celebrations held at blood bank. Already Megastar made it clear that his 150th is not going to be a message oriented one as speculated by all.
'Paruchuri brothers are insisting me to do Uyyalawada Narasimha Reddy biopic. But I've more inclination towards stories like Shankar Dada, Annayya and Rowdy Alludu', Chiranjeevi asserted, giving clue about the outlook of this milestone movie. And with Ram Charan seeking a month time to share full details about it, it's again waiting time for Mega fans.