Premam Movie Rating: 3.75/5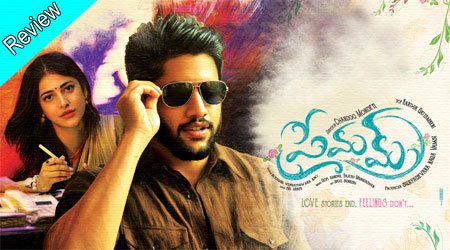 | | |
| --- | --- |
| Release date | 7th October, 2016 |
| Starring | Naga Chaitanya, Sruthi Hassan, Madonna Sebastia, and Anupama Parameswaran |
| Director | Chandoo Mondeti |
| Producers | S. Radha Krishna, S. Naga Vamshi and P.D.V. Prasad |
| Music Director | Gopi Sunder |
| Banner | Sitara Entertainments Banner |
Premam Movie Plot
Premam is about love at different stages of life.  The movie is about the love and breakups that a man goes in three stages of his life.  Chey plays the role of Vikram and the movie starts with the love story of him when he was in his schooling.  He falls in love with Anupama Parameshwaran.  As the time passes, the movie shifts to Chey's college days where again he falls head over heels in love with Sitara, a faculty, which is played by Shruthi Hassan.  Sitara gets in an accident and forgets about her love, which breaks Vikram's heart.  He suffers a lot and moves on in life.  After years, he again settles down in life and he meets with Madonna Sebastian who is the younger sister of Anupama Parameshwaran.  How he wins the heart of love of his life is what forms the rest of the story. The movie has got surprise package i.e., special appearance by Nagarajuna and Venkatesh.
Premam Movie Review
Premam is a feel good movie that has all elements and emotions in right quantities.  It is an emotionally resonant and every audience can relate to the characters in the movie at some point in time.  Both Chey and Shruthi gave tremendous performances.  Shruthi as a faculty looked quite convincing.  The movie has got good entertainment quotient.  Chey in all the three roles has done a fabulous job.  The climax is quite acceptable.  It is a happy ending finally.
Plus points
Naga Chaitanya himself is a plus point for the movie. He carried his role so well.
Shruthi Hassan as Sitara madam is quite convincing.
Awesome music by gopi sundar
Minus points
Emotionally a bit lacking from the original version.
Technical aspects
Gopi Sundar has given wonderful audio.  The songs are very pleasant and fresh.  The technical values are quite high and the cinematography is carried out well.
Final verdict
This romantic love story Premam is a heart-winning movie.  Everyone must watch this flick experience the love.
Rating 3.75/5