PAWAN KALYAN's NEW LOOK GOES VIRAL!
Power star , style icon, PAWAN KALYAN, is known famous for his styles in his movies. Director SJ Suriyah is getting ready for his new flick and Pawan Kalyan is been casted. A new look is been posted on the trending site where fans see a new and young look of the actor.
The audiences and fans are both surprised as well as shocked.  The actor is seen in grey hair and clean shaven without moustache look.  This look of pawankalyan is a challenge among youngsters. After the failure of Sardaar Gabbarsingh, Pawankalyan's responsibility has become upgraved and he was seen experimenting with his looks in his upcoming movie. This massy looks creates a new buzz and the pick goes viral on the social media.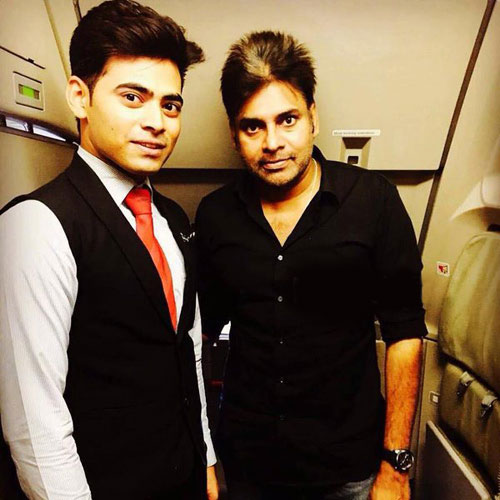 Risking the looks in the film is a brave step to be taken and coming from pawan Kalyan is expected and very much appreciated. Pawan is very much of awe of delivering a super hit movie now. Pawan kalyan has many followers on twitters and his style becomes an icon among fans.  News from sources confirms that already his fans has started following his looks posted on the social media stream.
PawanKalyan, known for his kind –heart skills,  recently met his die-hard fan 'Srija' who has fought from brain Tumour and is now free from it at Andhra Pradesh. Srija's family was also there present .the actor spent about two hours with his fan and her family and was happy on recovery of the girl and wishes her great health. He was dressed in white cotton dhoti. His style becomes a fashion among the fans.
Excited and love-dubbie fans of Pawan Kalyan, stayed connected for more updates! Here's wishing great luck for the movie! Toodles!