Pawan Kalyan's Guntur Fans President attacker photo out!
Trisha Krishnan Marriage details | Is Produer spending over Buget on Temper?  | Pawan Kalyan Will Turn Up On Jr NTR's Date
We already told you about the unfortunate incident during the 'Gopala Gopala' audio launch. A Pawan Kalyan's fan was injured during the incident. A new twist occurred in the entire episode.
A police filed a case on the incident and are currently investigating into the matter. As part of investigation they are searching for the witnesses during the incident. During the incident they stumbled across some photos taken by other fans during the incident. A person carrying a blade was caught in some pictures. He is currently the prime suspect in the investigation.
Junior Artist Krishnaveni Arrested In Prostitution Case | Ahuti Prasad is no More! | Pawan Kalyan latest Tweets on unfortunate incident
The police released the photos to the media. SI Suresh requested that if any one recognizes the person in the photos they should immediately approach Madhapur police station or call 9493549415, 9491030063.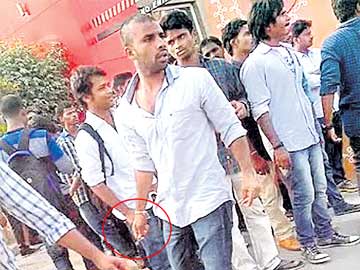 Final warning for Pawan Kalyan fans from Chiranjeevi | Charan enjoying late night party with Lakshmi Rai | Fans Shocked with 'Mukunda' Controversy!