Pawan Kalyan Turns Headache For Baahubali Movie. Dear Pawan Kalyan Are you you Listening?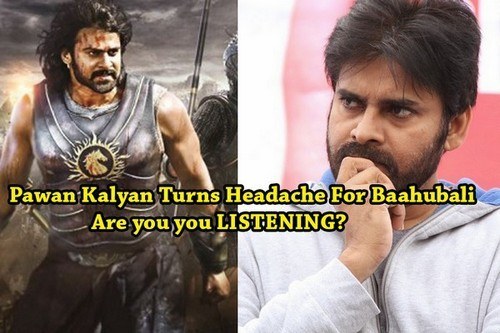 It is noted that bollywood Super Star Salman Khan and Kollywood Star Hero Suriya have come out of their shell and requested their fans to be cordial to other heroes and fans too.
They have asked their own followers not to get in to any fan wars since all the heroes in the film industry good sensible friends infact. Looks like, Its time for Pawan Kalyan also to create an announcement of it sorts to end these silly fan wars. during the audio launch of Baahubali, Adivi Sesh, who was introduced to films with Pawan Kalyan's Panja, thanked the star for taking him into the film industry.
See the below images to see the war between fans
Like in any other audio function these days, Pawan Kalyan's mention has fetched roaring response from audience in Baahubali audio launch too. though that was a earnest gesture from the actor, he was dragged in to fan wars by Prabhas and Pawan Kalyan fans.
Pawan Kalyan fans soon started trolling Prabhas and Baahubali fans solely to project their star bigger than any one. This has irked Prabhas fans and also the fan war reached new high on micro-blogging sites.
Poor actor, Adivi Sesh took to twitter to apologized Prabhas fans any quite unintentional hurt and requested them to not to assume otherwise. when seeing all this disturbance online, movie buffs were all hoping Pawan Kalyan to unleash a word to finish this never ending drama. meanwhile check out the trolls made by Pawan Kalyan fans.
See the below images to see the war between fans