The audio album and the theatrical trailer of the latest romantic family entertainer directed by the most applauded director Trivikram were launched by Powerstar Pawan Kalyan just a while ago. The most graceful highlights of the event are the speech given by Pawan Kalyan regarding the director Trivikram and hero Nithin. The popular hero released the audio albums of Trivikram's upcoming movie 'A Aa' starring Nithin and Samantha Ruth Prabhu.
Pawan Kalyan has given a lengthy speech about his relationship with his respectable and close friend Trivikram and Nithin. He praised both the director and hero of the film. Pawan Kalyan also said that Trivikram is pride of Telugu cinema. "Telugu cinema is honoured to have such endowed writer."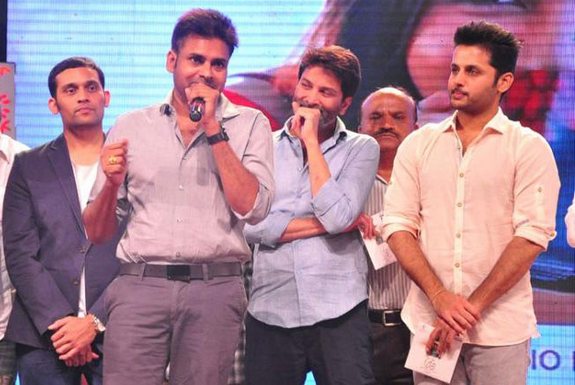 Pawan Kalyan Praised Trivikram
He revealed that he knew the capacities of the genius director Trivikram at the time of his early movies 'Gokulamlo Seetha'. "He was an assistant writer for that movie. But, when the writer Posani was not around, we called him to write some lines for that movie. That was our first movie to work together. Later, I have seen his capacity when he was writing for the movie 'Chirunavvutho'. Since then our friendship developed and became quite close friends. I honour him as a good friend and as a prodigious writer," Pawan Kalyan said.
Visit :- A Aa HD Theatrical Trailer
After releasing the theatrical trailer, Pawan Kalyan also mentioned about the hero of the movie. He termed the actor Nithin as his brother. "Despite I appeared to the audio launch of 'Ishq', I came to know recently that he respects me in a great way and he has boundless admiration towards me. However, I was in a predicament when he invited me to attend the audio function of Ishq. But I was told that he was going through a lot of failures, I decided to support him as a brother," Pawan Kalyan affectionately reminded.
"I wish him to attain a huge success as a renowned star. I hope that he will also become a great celebrity at national level as well. I already knew the storyline of this movie even before I was doing the movie 'Atharintiki Daaredi'. This is truly a feel-good family entertainer which will be definitely adored by everyone," Pawan Kalyan coveted.
You can watch the latest theatrical trailer of the beautiful movie A Aa wherein you can see Samantha's voice will be narrating the story of a lovely couple with a commencement, a twist and the end. However, we will have to wait until the movie's release this May to witness the magic of director Trivikram. A Aa is a cool feel-good movie in the hot summer season.