Oka Laila Kosam 10 days Collections
A NUDE Film from SS Rajamouli's Father Vijayendra Prasad | Mahesh Babu asked help from Prabhas | Ram Charan's Love affair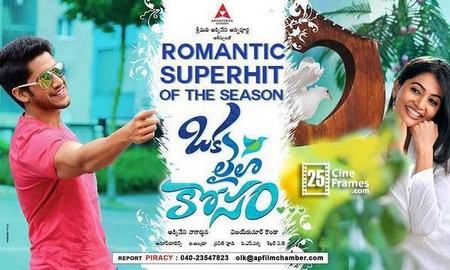 Naga Chaitanya's Oka Laila Kosam has completed its 10 days run at the box office. The movie has released in a dry season and has got 'not so bad to okay' talk which has seen an impact on the collections as well. The movie has been performing 'average' right from the start. The film has picked up to some extent for the Diwali season and the performance has been reasonable.
Pawan Kalyan Stopped Vijay Kaththi Release? | Hero Aadi and Aruna Engagement Photos | Prabhas is my last hero: S S Rajamouli
Naga Chaitanya has pinned so many hopes on this project after the failure of Autonagar Surya. Since the film has been made on a modest budget, the film will end up as a slight loss venture. Here is the breakup of Oka Laila Kosam 10 days collections:
Oka Laila Kosam 1st Day Collections : 2.10 Crores
Oka Laila Kosam 2 Days Collections : 1.80 Crores
Oka Laila Kosam 3 Days Collections : 1.83 Crores
Oka Laila Kosam 4 Days Collections : 1.50 Crores
Oka Laila Kosam 5 Days Collections : 1.33 Crores
Oka Laila Kosam 6 Days Collections : 1.26 Crores
Oka Laila Kosam 7 Days Collections : 1.03 Crores
Oka Laila Kosam 8 Days Collections : 0.98 Crores
Oka Laila Kosam 9 Days Collections : 0.91 Crores
Oka Laila Kosam 10 Days Collections : 0.83 Crores
Oka Laila Kosam Total Collections : 13.57 Crores
Bunny about Baahubali | I'm not dating Dil Raju: Actress Sheela | Music Director Thaman Cheated Mahesh Babu!