Nee Jathaga Nenundali Review
Nee Jathaga Nenundali Movie Review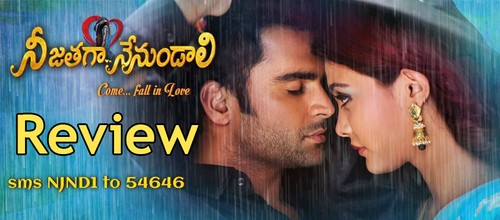 25CineFrames Rating:
2.75/5
| | | |
| --- | --- | --- |
| Release Date | : | 22/08/2014 |
| Starring | : | Sachiin J Joshi, Nazia Hussain |
| Director | : | Jaya Ravindra |
| Producers | : | Bandla Ganesh |
| Music Director   | :   | Mithoon, Jeet Ganguly |
[clear]
[clear]
We all know what hysteria and magic, Aashique 2 created. Now, young hero Sachin Joshi has joined hands with Bandla Ganesh, for its Telugu remake titled Ne Jataga Nenundali. Also starring Nazia as the female lead, this film has hit the screens today. Let's see how it is.
[clear]
Type Of Movie (Genre) :
Love
Story :
Raghav Jairam(Sachi Joshi) is a fading pop icon, who spots Gayatri(Nazia) at a bar in Goa. Impressed by her talented singing, Raghav promises to give her a break in the music industry.
As time passes by, he keeps up his promise, and gets Gayatri a huge break and makes her a renowned singer. In the due course of time, the couple also fall in love with each other. But twist in the tale comes when Raghav's alcoholic and rash nature comes in the way of Gayatri's success.
Does Raghav let go off his drinking habit ? How does he solve his problems with Gayatri ? That forms the rest of the story.
Technical Aspects :
As said earlier, music is a major plus and holds the film together. Lyrics written for these numbers, are just about ok, and do not sync with the emotion of the songs. Camera work and production values are top notch, and elevate the film completely.
Dialogues are quite good, and so is the editing. Background score of the film is very good, and lifts the film decently. Screenplay is decent but bogs down during the crunch emotional scenes.
One can say that director Jaya Ravindra does a decent job with this remake. He does not manipulate the story much, and keeps it intact. But he lets us down in extracting emotions out of the lead par. The agony and pain that the lead pair are going through is never showcased on screen.
Plus Points :
Major plus point of the film is undoubtedly the music score. Even though the tunes are old, the way they have been composed and showcased is pretty decent. Camera work is stunning, and elevates the film to another level.
When compared to all his previous films, Sachin Joshi surprises us with his improved acting skills. The way he has gone about his lines, lip sync and emotions is good. Female lead Nazia, does a decent job for her first film and emotes her role convincingly.
Sashank's role looks fresh, and he does a good job with it. Production values of the film look rich and have been showcased quite nicely. Rao Ramesh impresses in his cameo.
Minus Points :
Major drawback of the film is that one just cannot stay away from comparing the original with the remake. The emotion of Aashique 2 is so strong that the depth and emotion in the remake, is now where closer to the original.
Even though both the lead stars perform well individually, their chemistry and the depth in their relationship never shows up on screen. Story of the film is nothing new, and can be predicted from the word go.
There is absolutely no entertainment, and those who seek regular masala fun, can stay away from this one. Climax of the film might not go well with the Telugu audience.
Final Words :
On the whole, Ne Jataga Nenundali is no way close to the original. But what works for this film is the stunning music and superb production values. If you go in without expectations and Aashique 2 in mind, you might end up bearing this typical multiplex kind of a film.
Overall 25CineFrames Rating :

2.75/5
[clear]
Source : 123Telugu