Nani Paisa Movie Review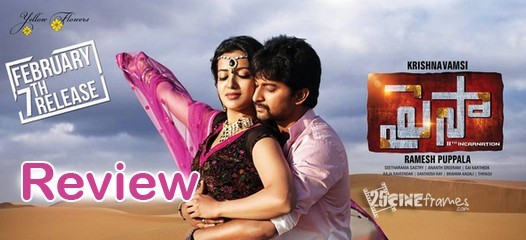 25CineFrames Rating:
2.5/5
| | | |
| --- | --- | --- |
| Release Date | : | 07/02/2014 |
| Starring | : | Nani,Catherine Tresa |
| Director | : | Krishna Vamsi |
| Producers | : | Ramesh Puppala |
| Music Director   | :   | Sai Karthik |
| User Rating | : | [starrater] |
[clear]
[clear]
Paisa Movie Review on 25CineFrames. Read on Nani, Catherine Tresa, Siddhika Sharma starrer Paisa review here.
Creative director Krishna Vamsi has wielded the megaphone for Paisa film featuring Nani and Catherine Tresa in the lead roles. After a long delay, the film has finally hit the big-screens today on February 7.
Story :
Pra-cash (Nani) believes in a motto "Cash is Demigod" works in Old City. Noor (Catherine Tresa) loves Pra Cash. But things twists when Sweety (Siddhika Sharma) gets in between Noor and Pra-Cash. With the growing love between Pracash and Sweety, Noor understands the situation and accepts to marry a Dubai shaik with the help local goon Yadav (RK). Pracash after Realizing his love for Noor, He returns to Yadav's place and gets away with Noor. In the meanwhile, Hawala money of 50 crores gets placed in the Car for political purpse, Being a political background for money Police – Goons start searching for the 50 Crores. Luckily Pracash finds it in the Car before the goons and policemen. How will Pracash get away with the cash and Save Noor forms rest of the storyline?
Positives :
Nani
Heroine Catherine's introduction is mind-blowing. She looked gorgeous and her character is lovable.
Scenes like funny and teasing between Nani and Catherine attracted much in the film.
Melody touch of songs
Actor Charan Raj's characterization is quite unique and different as a politician, especially as a Minister.
Negatives :
Villanism to villan should be more
Routine CLimax
The movies with smae concept of huge amounts of money have already been produced in the past. The same concept is applied with slight changes.
Should be much more entertaining
Technical Aspects :
Cinematography shot by Santosh Rai is good which is common aspect in all krishna vamsi films
lighting and art direction are too bad and Quality of locations in certain scenes are also bad
The Narration takes the beaten path. Dialogues in the film are routine.
The music of the film is good. But these songs are not translated into good visuals with KVM style on screen. The Background Score is loud from Sai Karthik.
Editing in the film is okay. Production values Ramesh Puppala are good.
25Cineframes Analysis :
Along with love story revolves around the Money and it shows the power of Money. The movie shows the way how money is affecting the present generation and impacting the human relationships in the society. Finally the movie will be an average feast to everyone though some commercial elements are involved.
krishna Vamsi didnt give his level performance in this movie, but if you want to watch a old story in krishna vamsi style you can watch. Its not boring as movie involves in interesting scenes like like investigations(this concept never give bore feeling). finally we can say Paisa is not Paisa vasool movie and can placed in average movie list.
25cineframes Rating :

2.5

/5
[clear]