Nandamuri Fans Attacked Jr Ntr's 'Temper' Theatre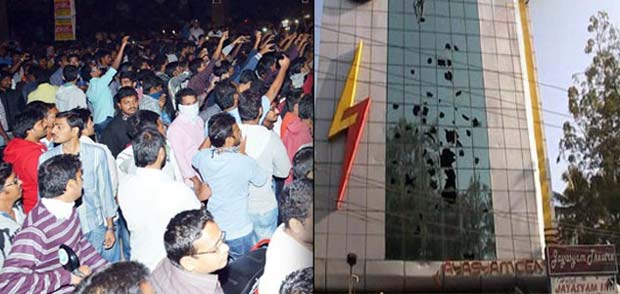 An unexpected incident took place in Tirupati city, angered Nandamuri fans had damaged a cinema hall because they got irritated with the theater management. Going into details NTR's Temper movie benefit show which was slated to start by 5am was delayed for more than one hour and impatient fans failed to control it.
In many places around the city Temper benefit shows started by 5am and after listening, checking updates in social networking platform Tirupati NTR fans have got irked. Disappointed fans have thrown stones on the cinema halls which has damaged the glass and couple of fans even destroyed property belong to theater.
With police interface things got into control and damage to theater got minimized to an extent. On flip side super hit talk and is heard for Temper movie all across the world. Nandamuri fans in all regions are celebrating the blockbuster feeling of Temper film.