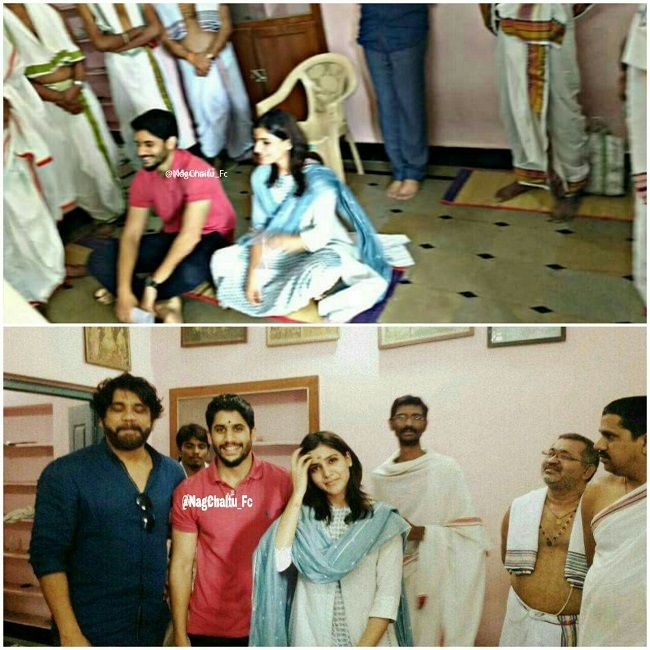 With the latest news and buzz on the social networking sites, we all are aware of one interesting news that young hero Akkineni Naga Chaitanya is truly in love relationship with the gorgeous and dazzling South Indian actress Samantha. This is the current hot topic which is circulating across the social media and other media circles. Naga Chaitanya and Samantha have reportedly spotted a couple of times and most recently in a movie theatre watching A Aa movie.
The photograph featuring Chaithu and Sam raised speculations and gossips that they are in love. Some of the videos and the photographs featuring the duo went viral on the social networking sites that eventually made the couple trending these days.Here are the latest and interesting updates about the on-screen cum off-screen couple's love story.
It has been revealed by various sources that Naga Chaitanya and Samantha are truly in a profound relationship. They have also planned to convince their families to accept their love relationship. There are no issues from the side of actress Samantha as she had already convinced her parents and opened up to the media about her love relationship. On the other hand, Chaithu had no issues with his mother who resides abroad. Moreover, she is quite delighted about Samantha to have as her daughter-in-law.
The main issue is with his father King Nagarjuna, the most popular actors in the Tollywood film industry. Nagarjuna is a kind of practical person when coming to personal issues. The current news is that Naga Chaitanya is waiting for his father's decision regarding his love marriage with the actress Samantha. As we all know that Nagarjuna was in love with the former actress Amala and with the permission of his father Late ANR, he married her.
He gave an unexpected and astonishing answer that he had already told his children find their soul mate all by themselves. Chaitu was already permitted of finding his partner by his father. Moreover, Nagarjuna said Chaitu to let him know if there is someone in his life so that he will not oppose his decision. He also said that he doesn't have any kind of issues about his love marriage.
Now the up-to-the-minute update is that Sam and Naga Chaitanya have participated in a pooja.  Though the reason behind offering the prayers is not yet known, it is assumed that they were planning for the engagement soon.  Photos of the duo sitting among veda pundits is doing rounds.  It may not be an engagement, but it could be something related to the marriage for sure.  With those photos it is crystal clear that the preparations for the marriage have been already started.
In the pics, Nagarjuna was also present and he was participating in the auspicious eve.  Not so long ago Nagarjuna cleared the air with an official announcement about Sam and Chey marriage. There are also pics of Sam and Amala that were circulating in social media lately.  So, it can be said that the preparations for the marriage of lovely couple in Tollywood have kick started already.