Nagarjuna meets Narendra Modi, expressed his support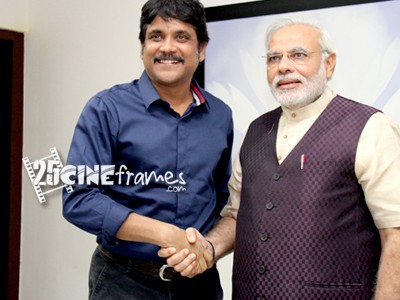 After Powe Star Pawan Kalyan, another Super Star Telugu actor King Nagarjuna declared support to BJP's prime ministerial candidate Narendra Modi.After an hour-long meeting with Modi in Ahmedabad Monday evening, Nagarjuna said the meeting was held at the request of senior of BJP leader M. Venkaiah Naidu.
The actor, however, made it clear that he has no interest in politics.He also denied that he met Modi to seek Lok Sabha ticket for his wife Amala.Amala is Co-founder of Blue Cross of Hyderabad, a non-government organization (NGO) in Hyderabad, India, which works towards the welfare of animals and preservation of animal rights. She is a vegan and an environmentalist. She works with 16 Non Governmental and Governmental organizations to promote social issues and animal welfare. Nagarjuna said he was impressed by the policy and ideology of Modi and the development achieved by Gujarat under his leadership.
He claimed that many villages in Gujarat get 24-hour electricity supply and also enjoy Internet facility.For last few days, political and film circles were abuzz with speculations that Amala, the actress-turned-activist, is keen to contest Lok Sabha elections from Vijayawada.
Son of the spian Akkineni Nageswara Rao, who died recently, Nagarjuna is one of the top actors of Tollywood. Nageswara Rao was never interested in politics but the family maintained good relations with the Telugu Desam Party (TDP) and Congress when they were in power.
Nagarjuna met Modi two days after Pawan Kalyan met the Gujarat chief minister in Ahmedabad to extend his support.
Stay tune for more Updates….